'A suitable occupation for a woman?': Celebrating 100 years of women in the legal profession
10 April 2019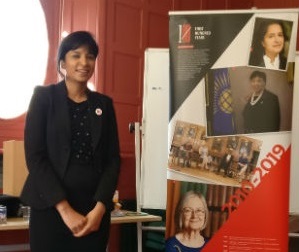 The University of Reading's School of Law has launched a series of events marking 100 years of women in the legal profession.
On Thursday, 28 March the school welcomed Naheed Taj, managing partner of Stowe Family Law Reading, to give an engaging and inspiring talk reflecting on her professional career so far.
This year marks 100 years since the introduction of the Sex Disqualification (Removal) Act 1919, which enabled women to enter the legal profession for the very first time.
Associate Professor, Dr Thérèse Callus said:
"Like Naheed, many women bear testament to the hard work and commitment needed to ensure equal access and recognition in many professional avenues.
"Here at the School of Law we have a number of inspiring and inspirational women, across all levels: undergraduate, postgraduate, current and previous staff.
"Today's women staff and students are thankfully not in an invisible minority and in fact just over 50% of our undergraduate cohort are women.
"More widely across the profession, women make up nearly half of all practicing solicitors and we now have three lady justices on the Supreme Court, one of whom, Baroness Hale is the first female President.
"Whilst there has been much progress, challenges still remain. It is still the case that after the birth of her first child, a woman is both financially and promotionally worse off for many years thereafter. But, Naheed pointed out that as a mother of two children, children can be a source of strength too. What is clear is the importance of a good support network, both in terms of child care options, but also in the work place.
"Likewise the University of Reading is committed to ensuring a supportive environment for all parents, enabling flexible working where appropriate. Over the last twenty years, the School of Law has had three female Heads of School and currently there are just over 50% female academics."
The University's School of Law has a long history of inspiring and supporting women across all levels, including undergraduates, postgraduates, current and previous staff.
Former head of school, Professor Patricia Leopold MBE was one of only two female members of staff within the school when she joined the university as a lecturer in 1974.
Prof. Leopold MBE said:
"When I entered Queen's University Belfast in 1969 to read law it was against the advice of my headmistress who believed that being a lawyer was not a suitable occupation for a woman.
"At that time there were no female practicing barristers at the Northern Ireland bar (and very few in England and Wales), no female professors of law in the UK (there had been one at Trinity College Dublin) and no female judges.
"The changes over 50 years in the way in which woman now feature in the legal profession may still not be enough, but it is significant compared to the position when I started my career."