NERC invests £1.3 million to engage the UK public on big issues in environmental science
11 April 2019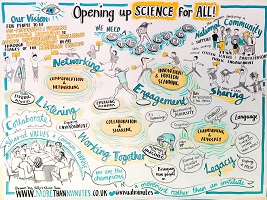 An innovative project that will see researchers collaborate with diverse communities on issues in environmental science has been awarded £1·3 million through NERC's Engaging Environments programme.
The NERC Community for Engaging Environments project aims to engage a broad range of audiences, including those typically less represented in public engagement activities. The project takes an innovative approach that combines community development, storytelling and citizen science, enabling diverse communities to have a meaningful stake in discussing and tackling environmental science issues such as climate change and pollution.
It aims to create lasting change in public engagement practice by providing learning opportunities while shaping future activities to equip NERC's research community and diverse communities with essential skills in public leadership.
Dr Hilary Geoghegan, the lead academic on the NERC Community for Engaging Environments platform at the University of Reading, said:
"I'm very excited to continue working with communities across the UK, NERC researchers and our partners. We'll be developing our capacity to listen and exchange stories about the environment and environmental change to co-create and make environmental research meaningful and relevant.
"For the entire team, Engaging Environments is critically important, and offers the chance to transform public engagement with environmental research, to ensure it can make a real difference through learning with those traditionally marginalised from science, but most likely to be affected by environmental issues."
The award is part of the NERC Engaging Environments programme, which supports ambitious projects to engage the UK public with contemporary environmental science issues on a national scale.
The first stage of Engaging Environments awarded £500,000 to six projects in 2017 to build a long-term, effective and innovative public engagement community across the UK. Building on this success, Stage 2 invited collaborative teams formed in the first stage to bid for funding for a single, large-scale project. This new phase combines the expertise from two of these projects, which built capacity and consulted around the UK - including Salford, Birmingham and Newcastle - on what a national project might entail.
The Stage 2 project is led by the University of Reading, in partnership with the University of Birmingham, University College London, the University of Salford, The University of Manchester, Newcastle University, and the organisations Earthwatch, Tekiu, and Citizens UK. A further 25 partners, including the Woodland Trust, the Natural History Museum and open science portal Figshare, will also contribute to the project.
Professor Dominik Zaum, Pro Vice-Chancellor (Research & Innovation) at the University of Reading said:
"We are delighted about this NERC award to establish the NERC Community for Engaging Environments. Environmental issues, from soil degradation to climate change, are among the most important challenges we face.
"Engaging the public in generating the evidence for the drivers and impact of environmental change, and working with communities to explore responses to these challenges, is essential to make this work tangible and impactful for all. The programme, with its focus on co-creation, will further deepen the cross-disciplinary approaches to environmental issues which have become a key feature of the university's research."
Duncan Wingham, NERC Executive Chair, said:
"As NERC's largest investment in public engagement to date, the second stage of Engaging Environments represents our recognition of the importance of public involvement, and our commitment to enabling high-quality engagement with environmental research.
"This programme will equip the NERC research community, and wider groups, with the skills and confidence to take innovative approaches to collaborating with the public in research."
Those interested in engaging with NERC public engagement are encouraged to subscribe to the Evironmental Science Engagement Jiscmail list- external link to share ideas and information with others.