University of Reading botanists toast 50th anniversary with specially brewed ale
11 April 2019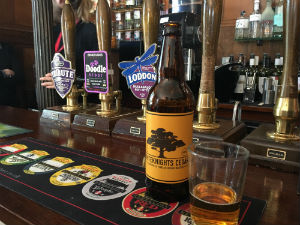 A golden anniversary cedar-infused ale celebrating 50 years of botany at the University of Reading will make its debut at a special open day this weekend.
Dr Jonathan Mitchley, Associate Professor in Field Botany, came up with the idea to produce a special botany-inspired brew to coincide with the University's year-long celebration of 50 years of botany master's training.
Fellow botanist Dr Alastair Culham suggested the tree-inspired flavour, which gives a nod to the number of iconic cedar trees on the University's Whiteknights campus.
Dr Mitchley partnered with the Crafty Brewing Company, whose director Luke Herman is a University of Reading ecology and wildlife conservation graduate, to create the perfect anniversary brew which has been named "Whiteknights Cedar".
The ale has already gone on sale in the University's Park House bar but will be on offer for tasting and purchasing at the department's Harris Garden Open Day this Sunday 14 April.
Dr Mitchley said:
"I noticed bespoke beers occasionally being produced for conferences, anniversaries or other celebrations and thought, why not a botanical brew especially for Reading Botany 2019?
"We held a number of tastings to determine which of Crafty Brewing Company's beers would be the best to infuse with the flavouring, and then to decide whether to use a cedar resin, the wood itself or extracted cedar oil, and in what quantity.
"Cedar oil packs quite a punch and so only very small quantities were required to infuse the ale, and the University of Reading's food lab's micro-syringe came in handy for this task. The tasting included expert beer aficionados including a representative from CAMRA. The view was that the lower concentration was the most suitable giving a clear cedar hint but not overwhelming the palette.
"The ale went on sale in the University's Park House bar on Tuesday (9), and we will be offering it to guests to taste and buy on Sunday at the Harris Garden open day.
"Entry is free, there will be tea, coffee and cakes, and plant sales, fun and games for the kids (and for grown up kids!) and visitors can chat to our experts, go on guided tours of the garden and take part in a botanical Easter hunt.
"It's going to be a lot of fun, with any money raised going towards the 50th anniversary celebrations."
The Harris Garden open day takes place between 2pm and 5pm on Sunday 14 April and all are welcome to join us. For more information visit https://research.reading.ac.uk/botany/events/.