Reading in the news - 12 April
12 April 2019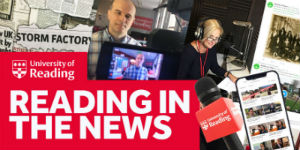 An article for the Independent (£) (and in digital print edition) that looks at the use of alternative remedies to treat conditions, and notes a 2015 study conducted by Pharmacy academics that found more than one third of terminal cancer patients in Oxfordshire have used a herbal supplement.
Curiosity: Metro report on a recent study which found that curiosity activated the same area of the brain as hunger.
Student carer: A UoR student who helps to care for his younger brother has been recognised for his dedication by the John Sykes Foundation, reports Reading Chronicle (and in print).
Other Coverage