Feel the power of voices and bodies in performance art workshops
12 April 2019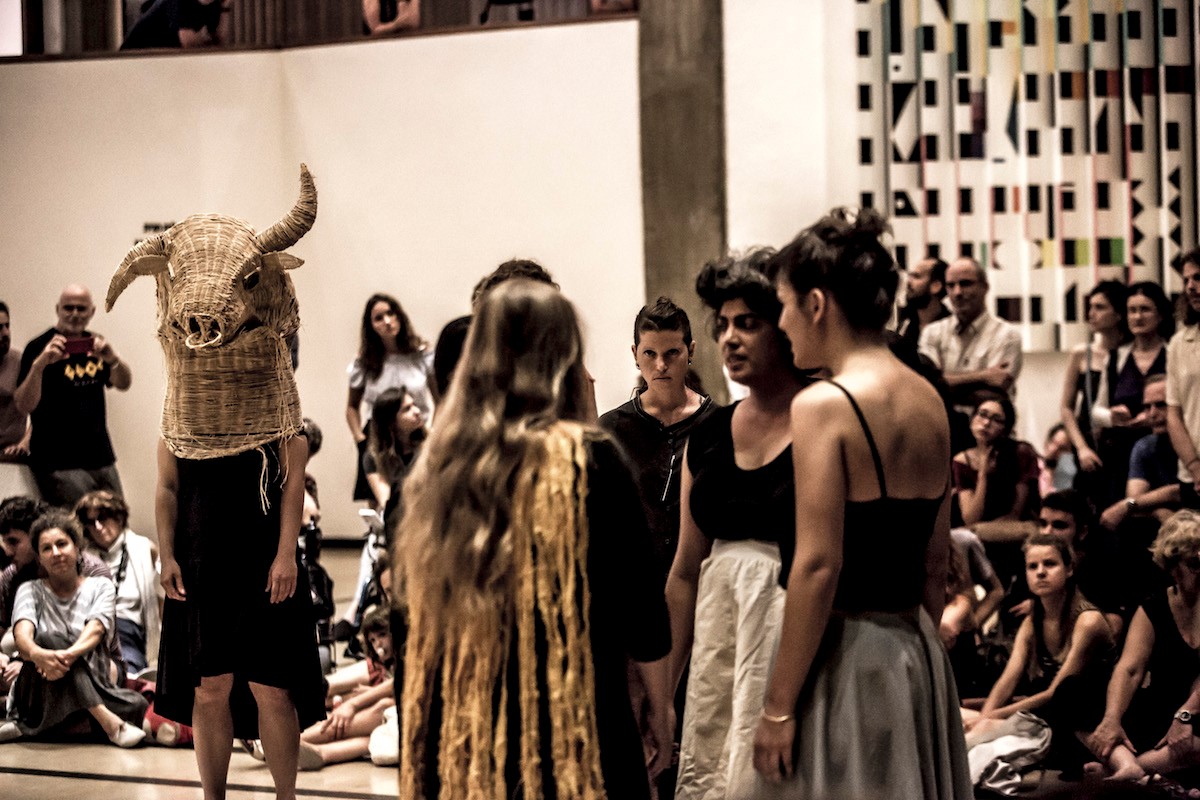 A karaoke-style art installation that invites visitors to deliver speeches from a religious conference is just one way the latest Reading International series will demonstrate the power of human voices and collective movement.
Workshops and interactive exhibitions that explore how voices and performative action can both activate society and bring people together will be held in locations across Reading in a new series titled (Un)Commoning Voices & (Non)Communal Bodies.
Videos showing what happened when Reading singers were asked to perform the British national anthem in Polish, and a music album representing people of all backgrounds and multiple music genres simultaneously are other examples of how the public will witness how words, songs and collective action to show we can fight prejudice and bring about political revolution.
Professor Susanne Clausen, from the University of Reading School of Art and Director of Reading International, said:
"The starting point for this exhibition was Reading's proximity to Greenham Common, which was the site of extraordinary protest led by the Greenham Common's Women's Peace Camp which was active from 1981 to 2000. It was established by women to protest nuclear weapons being sited near Reading at RAF Greenham Common.
"Working with curators Maayan Sheleff and Sarah Spies, we have invited international artists to respond to this context. In a series of workshops, performances and exhibitions we are asking how we can use our voice as individuals to undermine fear and invite empathy? How do we, as individual subjects, participate in these collective acts, or refuse them?"
"As part of this we are offering our audience to participate in a series of exclusive workshops led by internationally renowned artists. We are inviting the public to collaborate with artists and to experience what they can do just by using their voices and bodies with other to find out what political impact (if any) is gained?"
(Un)Commoning Voices & (Non)Communal Bodies runs from 23 April-2 May at OpenHand OpenSpace, St Laurence Church, Greenham Common Control Tower and at the University of Reading.
A central exhibition at OpenHand OpenSpace will feature videos and performances exploring the relationship between art and protest movements. One exhibit titled The Great Seal, by Tali Keren, invites viewers to step onto a make-believe stage as keynote speaker at the Washington D.C. Summit of Christians United for Israel (CUFI). In front of a presidential teleprompter and using a karaoke 'sing-along' machine, visitors will discover the power of public speaking by performing speeches from previous CUFI conferences.
A participatory performance titled Emergency Routine uses movements from combat training, states of emergency and counter-terrorism to form a choreographed public display. The 30-minute performance is the work of Public Movement, a research body based in Tel Aviv, Israel, which investigates and stages political actions in public spaces.
A workshop titled The Book of Challenges is aimed at performing art students and professionals and sets mini challenges for participants based around music, performance or movement. The workshop at St Laurence Church is run by two performance artists, Noam Enbar and Nir Schauloff, who have created work for the theatre.
Also part of the new art series is an exclusive performance by Nina Wakeford at Greenham Common Control and a choir workshop for women led by artist Michal Oppenheim exploring the role of women's choral singing today and new ways of singing as a group.
(Un)Commoning Voices & (Non)Communal Bodies is supported by Artis Grant Programme, Reading Buses and Loddon Brewery.
Reading International is a collaboration bringing world class art to Reading, and involves the University of Reading, Reading Borough Council and Arts Council England.
Between January 2017 and December 2018, Reading International has delivered to an audience of around 45,000 people. It has delivered more than 60 events, including exhibitions, performances, screenings and talks, worked with 65 artists and conducted workshops with over 1,000 participants, including local audiences, partners, youth groups and school children.
Full programme list for (Un)Commoning Voices & (Non)Communal Bodies:
EXHIBITION
(Un)Commoning Voices & (Non)Communal Bodies
26 April-2 June | Thursdays to Saturdays 3pm-6pm
Opening Friday 26 April, 6 pm
OpenHand OpenSpace, Oxford Road, Reading, RG30 1HL
PERFORMANCE/WORKSHOP
Emergency Routine – led by Public Movement
26-27 April | Edith Morley
To book a free ticket for the performance in taking part, email Steph Mitchell steph@readinginternational.org
or call +44 (0)118 378 8050
WORKSHOP
The Book of Challenges – led by Noam Enbar and Nir Shauloff
23 April 2pm-6pm | 24 April 2pm-6pm
St Laurence Church, Friar Street, Reading, RG1 1DA
PERFORMANCE
An Apprenticeship In Queer I Believe It Was – by Nina Wakeford
27 April | 7pm-9pm
Greenham Common Control Tower, Burys Bank Road, Newbury, RG19 8BZ
WORKSHOP
ChorUs – Voice lab for women led by artist Michal Oppenheim
24 April 6pm-10pm | 25 April 2pm-10pm | 26 April 2pm-6pm
St Laurence Church, Friar Street, Reading, RG1 1DA
Image credit:
Noam Enbar and The Great Gehenna Choir, Tel-Aviv Museum, 2017