Reading in the news - Mon 15 Apr
15 April 2019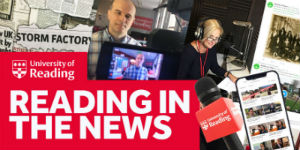 Space twins: Sky News interviewed Professor Chris Scott (Meteorology) about the physical effects being in space has on astronauts.
Botany beer: Dr Jonathan Mitchley (Biological Sciences) spoke to BBC Radio Berkshire about the special beer brewed by Reading scientists to celebrate 50 years of botany research at the University. Read our news story.
Dairy farming: Farmer's Weekly reports on the latest results of a Reading project looking to increase the milk yields of cows, with Dr James Hanks (SAPD) quoted.
TV taboos: Dr Faye Woods (FFT) is interviewed by Grazia about why there are so few scenes in TV shows featuring female masturbation, following one that aired in the latest BBC series of Fleabag.
Other coverage