Reading in the news - Tues 16 Apr
16 April 2019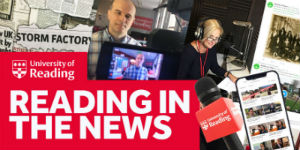 Female body hair: Professor Karin Lesnik-Oberstein (English Literature) spoke to BBC Radio 4 about the 'taboo' of female body and facial hair.
Earworms: Professor Philip Beaman (Psychology) is mentioned in an article by Spektrum.de on why catchy tunes get stuck in our heads.
Colombian crops: The University's project to develop heat-tolerant bean varieties for future climate change scenarios is featured in an article by The Scottish Farmer.
Student food innovation: The Institute of Food Science and Technology has announced the finalists of the Ecotrophelia UK student food innovation competition. Three teams from the University have been shortlisted: Keesh, A vegan, gluten-free and reduced fat quiche-like product made of a sweet potato base packed with roasted vegetables in a chickpea flour filling; Favalicious, an orange, pink and green 'hummus style' fava bean dip; and Venergy, a vegan alternative to energy sweets for endurance athletes. The story is also covered by Food Manufacture.
Monsoon predictions: PhD researcher Akshay Deoras (Meteorology) is quoted in articles by the Hindustan Times and DNA India about monsoon rainfall predictions in India.
Other Coverage
The University's students' union is mentioned in an article by Radio Times about criticisms of University Challenge.