Mark Lawrenson to battle Reading computer model on Football Focus
16 April 2019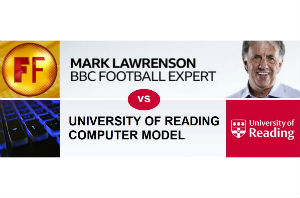 BBC football pundit Mark Lawrenson will find out if he knows more about the game than a University of Reading computer model on this weekend's episode of Football Focus.
Former Liverpool and Republic of Ireland defender 'Lawro' will take on a complex model developed by University of Reading experts to see who can most accurately predict the scores in this weekend's Premier League fixtures. The battle will be featured on Football Focus this Saturday (21 April).
The model was created by Reading economists and uses a sophisticated metric that analyses things like historic results, managerial changes and even travel distances for each team to calculate the most likely score in any given game. The model's weekly score predictions for England's top four leagues, along with final league table forecasts, are published at blogs.reading.ac.uk/econscorecast
Dr James Reade, Economist at the University of Reading and lead developer of the computer model, said: "The task of taking on Lawro at his specialist subject is usually taken on by a celebrity, but this weekend is our model's time to shine. We're confident it will provide a stern test for Lawro and hopefully come out on top in the battle between man and machine."
Lawro's Premier League score predictions are a weekly feature on Football Focus and the BBC Sport website. Usually he is pitted against a celebrity, but this weekend will go head to head with the model developed by Dr Reade and fellow Reading economist Dr Carl Singleton.
The model has regularly outperformed Lawro in its score predictions so far this season. Using the BBC's scoring system for its Premier League Predictions feature, the model has been vying for top spot in a mini league table against both Lawro and Sky Sports' own score prediction expert Paul Merson.
The model forms part of research behind a Reading BSc and BA Economics module entitled 'The Economics of Sport and Games'.
Keep up with the model's latest score predictions by following @SEconomists on Twitter.