Reading in the news - Tue 23 Apr
23 April 2019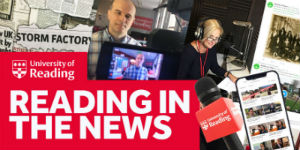 Red meat risk: BBC News, Guardian, Independent, Times, CNN, MSN News and Yahoo News quote Dr Gunter Kuhnle (Food & Nutritional Sciences) on the health risks associated with red and processed meats. Dr Kuhnle is also quoted by the Times in a piece on nitrites in processed meats like ham.
Football predictions: A computer programme that can predict football scores, developed by Dr James Reade and Dr Carl Singleton (Economics), was challenged by BBC football pundit Mark Lawrenson in his weekly predictions feature. The battle featured on the BBC Sport website and on Football Focus on BBC One additional clip here). The predictions are reported by the Mirror Manchester Evening News, Lancs Live, Stoke Sentinel, Football.London, Hull Live, Leeds Live, Bristol Post, Give Me Sport, UK Day News, The Mag, News Puddle, Read our news story and follow the weekly predictions on the Scorecasting Economics blog.
Musk and Unit: BBC News, the Times, Daily Mail, Independent, Yahoo News, Russia Today, Get Reading all report on Elon Musk borrowing The MERL's 'absolute unit' ram photo for his profile picture last week, prompting the museum to use Musk as its own profile picture. BBC Radio Berkshire interviewed Adam Koszary (The MERL) about the events.
Notre Dame blaze: Reuters, New York Times, CNN, AOL News and Global News quote Professor Adrian Palmer (Henley Business School) on why so many donations have been made to rebuild Notre Dame following last week's fire when similar generosity was not shown after the Grenfell Tower fire in 2017.
Warmer climate: New Scientist quotes Professor Hannah Cloke (GES) on whether recent heatwaves can be attributed to climate change. Gadgets.NDTV quotes Professor Ed Hawkins (Meteorology) on satellite records that confirm global warming is occurring due to human activity. Hindustan Times quotes PhD researcher Akshay Deoras (Meteorology) on why monsoon forecasts are often inaccurate.
Second jobs: BBC Radio 5 Live interviewed Naeema Pasha (Henley Business School) about Henley research on British workers working multiple jobs. The interview was also broadcast across all regional BBC stations. The side hustle research was reported by BBC News and Huffington Global, Read the Henley news story.
Other coverage
ITV Meridian visited the National Fruit Collection managed by the University of Reading to see the blossoms at the orchard and learn how the weather is impacting the fruit.
Parkinson's Life publishes a piece by Dr Patrick Lewis (Pharmacy) on the life of James Parkinson, who first described Parkinson's disease.
Professor Pam Denicolo, emeritus professor at Reading, co-authored a piece for Times Higher Education on preparing for a doctoral viva.
Professor Sir Brian Hoskins (Meteorology) spoke to LBC radio about the climate change protests in London last week.
Stuff.nz mentions Reading research (Meteorology) on climate change increasing severe air turbulence that would affect airlines.
BBC Radio Berkshire and BD Online report on plans to build a new British Museum archaeological facility in Shinfield, as part of a partnership with the University. Read our news story.
The Reading Chronicle reports on complaints made by residents to the University about student behaviour, in connection with the University's plans to expand St Patrick's Hall.
Dr Jonathan Mitchley (Biological Sciences) spoke to BBC Radio Berkshire about a beer brewed to celebrate 50 years of botanical science at the University.
A Reading student who took part in the Extinction Rebellion protests last week is interviewed by the Reading Chronicle.