Reading in the news - Wed 24 Apr
24 April 2019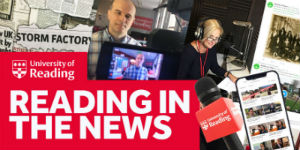 Side jobs: Further radio interviews took place yesterday with Naeema Pasha (Henley Business School) about Henley research on British workers working multiple jobs. She spoke to LBC, BBC Wales, BBC Berkshire, BBC Wiltshire, BBC Nottingham, BBC Stoke, BBC Somerset, BBC West Midlands, BBC York, BBC Leicester, BBC Tees, BBC Devon, BBC Oxford, BBC Cornwall, BBC Coventry & Warwickshire, BBC Manchester, BBC Cumbria. Clips from Naeema's 5 Live Breakfast interview were also re-used on the 5 Live Drive show. Bustle also quotes Neema in its story on the topic. Read the Henley news story.
Hot weather: Get Reading quotes Dr Roger Brugge (Meteorology) on the record-breaking temperatures recorded on Easter Monday.
Other coverage
The Conversation publishes an article by Professor James Green (School of Law) on law changes that are needed before nuclear weapons could realistically be used to destroy an asteroid heading for Earth, in the style of the film Armageddon.
An article written for The Conversation by Dr Nafis Alam (Henley Business School) on the economic impacts of President Trump's crackdown on Iran's oil exports is republished by International Business Times and Raw Story.
A study co-authored by Professor Bill Collins (Meteorology) on the risks associated with the transition from coal to gas as fuel is reported by Manufacturing.net, Eurasia Review. Read our news story.