Reading in the news - Mon 29 Apr
29 April 2019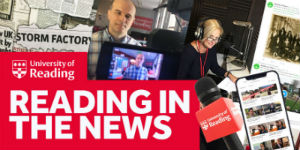 Temperature rises: The Sunday Times interviews Ed Hawkins (Meteorology) about UK cities that have seen their average temperatures rise by more than 1.5C – the limit for global temperature rise laid out in the Paris Agreement. This is also reported by the Daily Star on Monday.
Soil health: BBC News 24, BBC News Online and BBC Radio 4 Farming Today interviewed Dr Joanna Clarke (GES) about work to investigate soil health and carbon levels, and some possible solutions proposed by scientists and farmers.
Parkinson's warning signs: An article written for The Conversation by Dr Patrick Lewis (Pharmacy) on unusual signs that indicate Parkinson's Disease is reproduced by several regional news sites, including Manchester Evening News and Wales Online, as well as Europe Breaking News.
Citizen science: Quartz reports on Reading scientists enlisting support from members of the public as a method of making scientific breakthroughs, including the Operation Weather Rescue project led by Professor Ed Hawkins (Meteorology).
Other coverage
The Reading Chronicle reports from the inquest opening for a student who died in March.
The Economics football score prediction-generating computer model has its latest predictions reported by Football.London and Manchester Evening News and also its final table forecast covered by Football.London and Hull Daily Mail. Read our news story.
Professor Kate Williams (History) is chair of the judges for the Women's Prize for Fiction, and tells the Guardian about the authors in the running.
Pharma Voice reports on a new book by Professor Adrian Williams (Pharmacy) and MedPharm Chief Scientific Officer and Co-Founder, Professor Marc Brown.
Professor Rick Poynor (Typography) reviews a new book on graphic design history for Eye Magazine.
A feature about the popularity of burgers in Stir It Up magazine features comments from Matthew White, Director of Catering, Hotel and Conferencing at Reading, and Matt Tebbit, Head of Residential Catering and Bars at the University.
A Reading student speaks to the Reading Chronicle about suffering with cerebral palsy and her efforts to raise money to volunteer helping disabled children abroad.
A Reading Zoology student was a contestant on Blockbusters on Challenge TV.
The University's Anglican Chaplain Rev Mark Laynesmith appeared on BBC Radio Berkshire to mention the memorial service for the Sri Lanka bombings held at the University on Friday.