Reading in the news - Tues 30 Apr
30 April 2019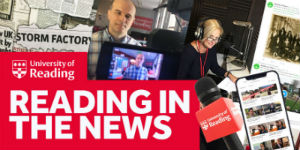 Soil health: Further coverage of Dr Joanna Clarke's (GES) work to investigate soil health and carbon levels, and some possible solutions proposed by scientists and farmers was picked up throughout the day by various BBC stations, including BBC Radio Orkney, BBC Radio Highlands, BBC Radio Scotland and Radio 5 Live, and BBC Online.
Temperatures on the up: The MailOnline has run an article on rising temperatures in UK cities, with a focus on the study carried out by Ed Hawkins (Met) to digitize historic weather records.
Parkinson's risks: Dr Patrick Lewis (Pharmacy)'s piece written for The Conversation on unusual warning signs of Parkinson's disease has been picked up by Newsweek
Women's Prize for Fiction: The shortlist for the Women's Prize for Fiction awards, of which Professor Kate Williams (History) is a judge, was picked up by The Society of Authors, The Evening Standard, Vogue UK and You Magazine.
Surviving Brexit: Dr Ben Laker (Henley Business School) and Rita Trehan have written a piece for Financial Director on how to lead in uncertain times.
Other Coverage