Reading in the News - Tuesday 6 August
06 August 2019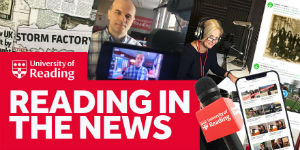 Jet Stream: Professor Paul Williams (NCAS) is quoted in an article by the Financial Times on how the jet stream is changing weather.
Hottest July Ever: Professor Richard Allan (National Centre for Earth Observation) is quoted in an article by The Metro on the recent heatwaves being a clear indicator of climate change.
Rain alerts: PhD researcher Akshay Deoras (Met) is quoted in an article by DNA India on the limitations of forecasting models.
Book review: Professor Paul Luna (Typography)'s latest book Typography: A Very Short Introduction is reviewed by art and design blog Creative Bloq
Bitcoin rollercoaster: Professor Nafia Alam (Malaysia) appears in an interview on cryptocurrency Bitcoin by SputnikNews.
Beckett's Last Tapes: Radio 4 will be airing a special programme on the archived Samuel Beckett tapes, which are housed at the Museum of English Rural Life, this Saturday (10th) at 8pm. The programme is mentioned as a highlight in Radio Times.