Reading in the News - Weds 7 August
07 August 2019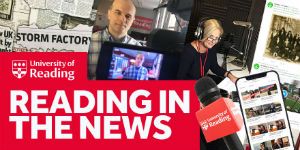 Air pollution: Research carried out by the University, and published in the journal Nature, on the effects of cutting air pollution on climate change, has been shared in articles by Hydrogen Fuel News and Terra Daily. Read our original article here.
Heatwave: Ed Hawkins' climate stripes image has been used in an article by German newspaper Spiegel on this summer's heatwave.
Jet stream: Professor Paul Williams (NCAS) is quoted in an article by the Financial Times on how the jet stream affects weather patterns.
Catering awards: Restaurant Industry.co.uk reports on the University being shortlisted in the Innovation category at The University Caterers Organisation (TUCO) awards.
Meghan Markle: Professor Kate Williams (History) spoke to RTE about the media's treatment of the Duchess of Sussex, Meghan Markle.
Hashtag United: FIFA.com has a story on English Literature graduate Spencer Owen, who founded his own football club, Hashtag United, which is in the ninth tier of the EFL, but has a larger social media following than many Premiership teams.
Other News:
Tara Pirie (Ecology) appeared on BBC Radio Berkshire's Coffee Club segment, talking about a variety of topical subjects.
A concert by That Petrol Emotion, which was recorded at the University in 1990, was featured on BBC 6 Music.