Business and Education lecturers win national teaching excellence award
05 August 2019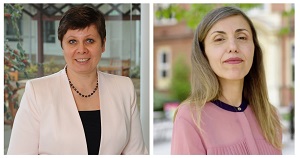 Two University of Reading lecturers have been recognized with the most prestigious teaching awards in higher education.
Professor Yelena Kalyuzhnova from Henley Business School and Dr Yota Dimitriadi from the Institute of Education were announced as recipients of National Teaching Fellowship awards for 2019.
The awards, run by Advance HE, celebrate and reward outstanding individual impact in teaching and learning across the country.
Encouraging inclusive Computer Science approaches: female participation in STEM
As well as working with the next generation of Computer Science teachers, Dr Yota Dimitriadi helps students across Education programmes at the Institute of Education (IoE) to reflect on the uses of digital technologies to enhance classroom learning and self-care practices.
Dr Yota Dimitriadi, who lectures at the University of Reading said:
"I am delighted and humbled to have been awarded a National Teaching Fellowship. The NTF nomination provided this amazing platform to celebrate collaborations with internal and external learning communities. My heartfelt thank you to the University for offering me this unique opportunity to share my story and to all, students and colleagues, who have supported me on my journey. As a recipient of this prestigious award and member of this amazing group of educational leaders I am inspired to pursue more opportunities for teaching and learning collaborations and community engagement".
Dr Dimitriadi champions Technology Enhanced Learning in the Institute of Education, and supported Reading and other universities to respond to a shift in teaching from Information Communication Technology (ICT) to Computing in 2014. In addition, Yota was involved in setting up the Computing Network of Excellence (NoE) and helped establish the University of Reading's Institute of Education as a key player in the policy and practice of teaching Computing at schools.
Dr Dimitriadi also contributes to international efforts to encourage more women to participate in STEM subjects. She worked as the Lead Academic in a pioneering Knowledge Transfer Project between the University of Reading and the World Association for Girl Guides and Girl Scouts, which provided thousands of young women around the world with opportunities to develop their leadership skills.
Find out more about our Institute of Education at:
http://www.reading.ac.uk/education/
Helping students to think internationally
Professor Kalyuzhnova, Vice Dean (International) and Deputy Head of Leadership, Organisations and Behaviour at Henley Business school describes her key priorities as being able to provide relevant, authentic, experiential learning experiences for students. She wrote:
"I will never stop learning in my professional life. This is a core principle of my upbringing that now informs my professional attitude. I would no longer be an effective teacher if I did not embrace the new challenges which make me stronger as a professional."
Professor Kalyuzhnova also believes in supplementing her classroom teaching with internships and study visits to help broaden students' perspectives and develop the business experts of the future.
A key part of her role is developing international partnerships; she is the founder and Director of the Centre for Euro-Asian Studies and works on collaborative projects with universities in countries including Kazakhstan, Russia and China. Prior to joining Henley in 2012, she taught in primary and secondary schools and universities in several countries, as well as working as an economic adviser to the first Kazakh president.
Professor Kalyuzhnova said:
"To say that I am delighted and honoured would be an understatement. I was so taken aback I was almost speechless – not only because I consider my contributions to teaching in the UK barely stand in comparison with those of previous recipients I know, but also because I feel a real sense of privilege to be nominated by the University for this prestigious award."
On gaining an award, National Teaching Fellows play an ongoing role in enhancing teaching and learning within their institution, the HE sector and further afield. In total 54 Fellows have been chosen this year, as well as 15 winning teams in the Collaborative Award for Teaching Excellence (CATE).
Alison Johns, Chief Executive of Advance HE, said:
"Becoming a National Teaching Fellow or winning CATE team is a huge achievement. It can be truly life-changing. Creating ambassadors for innovative and impactful teaching who are valued by institutions and colleagues, and who can set in motion change and enhancements to make a really positive impact on student experience and outcomes across their institution and beyond.
"Advance HE looks forward to working with the winners to help to disseminate their work for the benefit of all."
Read more about the Henley Business School at:
https://www.henley.ac.uk/
Dr Dimitriadi and Professor Kalyuzhnova will receive their awards at a special ceremony in October.