Reading in the News - Weds 14 August
14 August 2019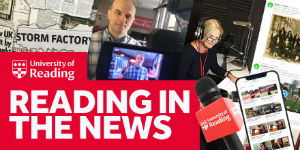 Neolithic dung: Dr Marta Portillo (Archaeology) is mentioned in an article by Horizon Magazine on the earliest uses of dung by Neolithic peoples.
Weed control: A demonstration of new technology at the University's Sonning Farm which helps growers target weeds from crops, thus reducing the need for pesticide sprayers, is covered in an article by SeedQuest.
Other coverage
The report on air turbulence being linked to climate change (Meteorology) is covered by The Columbian and AeroTelegraph. The report is also briefly mentioned in an article by GetReading about a conference on tackling climate change, which is taking place in Newbury in October.
A discussion of the popularity of Rudyard Kipling's The Jungle Book by Dr Sue Walsh (English Literature), which takes place during the BBC Proms this Saturday (17th), is mentioned by Total TV Guide.
PhD student Tobias Lane (Agriculture) is mentioned in an article by The Fruit Grower on the Worshipful Company of Fruiterers Student Prizes.
The Museum of English Rural Life is mentioned in an article by architecture journal Landscape on the Li archive, which is housed at the museum.
Diver Magazine has an article on the artificial islands being investigated by Dr Duncan Garrow (Archaeology) and a team in the Outer Hebrides.
A letter by Pam Jenkinson, of The Wokingham Crisis House, on the placement of psychology students from the University, is published by The Wokingham Paper.