Reading in the News - Thurs 15 Aug
15 August 2019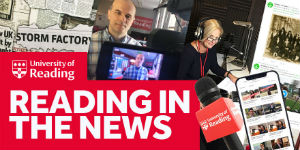 Clearing: As students across the country wake up to their A-Level results, Professor Mark Fellowes (VCO) has been interviewed by BBC Newsnight, BBC Radio Berkshire on Wednesday and featured again on Thursday morning, and Heart Radio, which was broadcast across a number of stations including Heart Suffolk and Heart Essex.
Managing money: The Times has an article on how new students can manage their money while at university, and mentions the University's car-sharing scheme.
U.S immigration laws: Dr Ruvi Ziegler (Law) took part in a discussion on migration, asylum and deportation for American broadcaster CGTN.
Access to Higher Education: The Reading Chronicle features an article on a number of students who have received their Access to Higher Education results, including 44-year-old bus driver Buba Sanneh, who will be joining the University of Reading to study law.
Edinburgh Fringe Festival: Reading University Drama Society's (RUDS) performances of 'Visitors' and 'Who Killed Bambi' are reviewed by The British Theatre Guide.
Other coverage
Jake Brendish, the recipient of the inaugural Tina Negus Prize, is featured in an article by the Ipswich Star.
The Bracknell News has a story about architecture student Rosie Clark, who was awarded a prize for excellence from the Royal Institute of British Architects (RIBA)
Director of Campus Commerce, Matthew White, writes an article for University Business on development opportunities for hospitality managers.
HR.Square mentions Henley Business School's research into the benefits of a four-day working week.
Henley Business School is mentioned in an article by Financial Express on the digital transformation of financial services.
The University is featured in a throwback to 1998 show on BBC Radio Suffolk, which mentions Professor Kevin Warwick's operation to surgically implant a silicon chip transponder in his arm.