Politics graduate receives first class honours after gaining university place through clearing
15 August 2019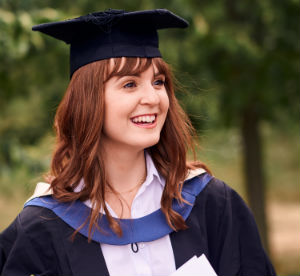 A student who thought she had let her family down when she missed her grades at A-Level has spoken of her relief at being accepted to study politics through clearing.
Jenna Coles, 21, from Cambridge, said she was 'devastated' when she received her results back in 2016, having narrowly missed out of the grades she needed to get into her first-choice university.
However, as Jenna explored her options, it became clear that all hope was not lost.
Jenna said: "I have always had high expectations of myself academically, and had been expected to achieve top grades, and so I felt like a disappointment to my family and my teachers. I also felt scared about what this would mean for my future, whether I would have to fall behind my peers and retake an A-Level, and whether my grades would affect my future employment prospects."
The bright student began to investigate back-up options through clearing, a service provided by UCAS to match students with available university places.
She explained: "I signed up to be on a contact list for Universities of students that fit their course requirements. The University of Reading called me the afternoon of my results day, after I had been on the phone to countless other universities, and the Admissions Department were extremely kind and patient.
"After the initial offer of a place had been made, I took some time to research the university before I considered accepting a place. It was very important to me to only accept if I thought it was my best option. My research into both the course, Politics and International Relations, and into the University itself, brought me to the conclusion that Reading University was somewhere I could spread my wings academically and socially. It was well-located, offered a languages course I was keen on, the department offered modules that were of interest to me, the social life both in the town and in the university looked excellent, and there were countless extracurricular opportunities in societies and clubs."
After accepting a place to study politics and international relations, Jenna threw herself into university life in Reading, signing up for modules outside of her course and becoming a course representative, so by her second year Jenna knew she had made the right choice.
She said: "The academic expectations for students during the second year provided me with more of a challenge which I thrived under. I got to know my department much better and discovered that my lecturers and other teaching staff were very friendly and supportive.
"Taking on the role of Department Representative at the end of my first year and through my second year helped me to develop a really good relationship with my department which continued into my third year as a Student Representative."
"During my first year I had a STAR mentor, who was friendly and helpful showing me the ropes at the university and giving me academic advice on my first essays and assignments. My department are incredibly supportive and very happy to engage with every student. In particular, the Politics and International Relations ASK Advisor, who was full of important knowledge on referencing and good essay writing skills, was a great help to me when I found repeated problems in my essay writing which I was unsure of how to improve upon."
Jenna graduated this summer with a First-class honours degree, and was presented with a special award by the Politics Department for best all-round contribution to her course.
Jenna said: "I'm really proud of the award, it means a great deal to know that I had a positive impact on my department and to receive such an award in front of my family was an honour."
The graduate is now taking a year out from her studies to explore her options but plans to return to academia to study for a Masters.
Jenna said: "Going to university, and being in the environment Reading offered, has caused me to really love academia and want to go on to further study those subjects which I developed a true passion for at Reading.
"One of my favourite memories at Reading would be working into the early hours of the morning on assignments with my friends. It was always stressful when we ran up against deadlines, but we always came together to provide support, snacks, and laughter. Those 2am library sessions were surprisingly fun, although I did quickly have to learn better time management skills."