Reading in the News - Weds 21 Aug
21 August 2019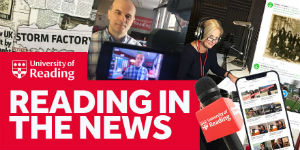 Lyminge dig: Dr Gabor Thomas (Archaeology) spoke to BBC Berkshire about the excavation at the St Mary and St Ethelburga Parish Church in Lyminge, Kent. The story is also covered by BBC News, KeepTheFaith.co.uk and Medievalists.net. Read our original news story here.
The Jungle Book: An interview with Professor Sue Walsh (English Literature) about Rudyard Kipling's The Jungle Book was aired by BBC Radio 3 during the interval of The Proms, which featured the story set to music by composer Charles Koechlin.
Tasty words: Dr Sylvia Jaworska (English Language and Applied Linguistics) is quoted in an article by The Daily Mail about how certain words can make us hungry.
Catering innovations: Matt White (Campus Commerce) is quoted in an article by University Business on the latest developments in campus-based catering.
Other News
Professor Kate William's (History) interview with BBC Berkshire about the media storm surrounding the Duke and Duchess of Sussex was repeated later in the day.
Politics graduate Jenna Coles' clearing success story is featured in The Cambridge Independent.
The Breeze FM has a story on the launch of a new proton beam cancer therapy suite at Thames Valley Science Park.
AfricanDecisions.com has an article on the success of Henley Business School Africa's MBA course.
The University of Reading Malaysia is mentioned in an article by University Business on the pursuit of student experience both at home and abroad.
The Art Newspaper features an article on the British Museum archive facility which is due to be built at Thames Valley Science Park.