Reading in the News - Tues 20 Aug
20 August 2019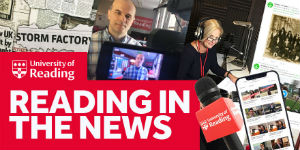 Meghan and Harry: Professor Kate Williams (History) spoke to BBC Berkshire about the media storm currently surrounding the Duke and Duchess of Sussex's use of private jets.
Longer heatwaves: Professor Hannah Cloke (Geography) is quoted in an article by New Scientist about the prospect of longer, more extreme heatwaves caused by climate change.
Oscar Wilde: Professor Peter Stoneley (English Literature) is quoted in an article by the Reading Chronicle about an upcoming art exhibition inspired by Oscar Wilde's poem The Ballad of Reading Gaol.
British Museum: The Times features an article on the new storage facility being built by the British Museum and the University's research partnership, BM Arc, at Thames Valley Science Park in Shinfield.
The Star reports on the success of the University of Reading Malaysia, featuring an interview with Professor Wing Lam.
The Daily Mail and LongRoom.com has an article on the archaeological dig at Lyminge, which is being headed by experts from the University.
The Swindon Advertiser has an article on the future of the town, and whether it will ever become a city. The article features a quote from Dr Steven Musson (Archaeology, Geography and Environment) from 2011.
The Southern Daily Echo reports on a scheme to help Marwell Zoo improve its recycling and sustainability efforts, which involves Graphic Communication and Typography student Eden Sinclair.
BBC World Service features an interview with Professor Kevin Warwick, formerly of the University, who became the first person to implant a cybernetic chip into his arm back in August 1998. The interview was subsequently shared on a variety of US radio stations, including WHRV and WLRN.
The Henley Standard reports on a competition to design the Reading Film Theatre's new logo to celebrate its 50th anniversary. The theatre is based on the Whiteknights campus.
The Doncaster Free Press reports on research by the University on the efficiency of ballpoint pens, and whether students should switch to traditional fountain pens to reduce plastic waste.
The Downs Mail has an article on Miss Kent contestant Zoe Hetherington, who is a University of Reading student.
A number of outlets, including DIY Week, announce that the new CEO of building supplier Travis Perkins is University of Reading graduate Nick Roberts (Geology).