Backstage Reading Festival experience for creative languages student
21 August 2019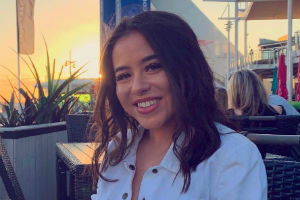 A Spanish and English Language student at the University of Reading will get a behind-the-scenes look at this year's Reading Festival after being selected to be part of a unique initiative.
Sophie Murray will get a backstage pass as they take on a digital internship with organisers Festival Republic, thanks to a partnership with the university.
She will also be tasked with producing an artistic or creative response to the festival using skills from their degree. The students will tell their experience any way they want to, from artwork to a piece of creative writing. Sophie intends to explore the different cultures found among the crowds, and investigate the appeal of British festivals.
Their projects, produced using the skills they have learnt on their course, will be submitted after the festival and exhibited a future date at the University of Reading.
"I hope to bring my knowledge of studying different social groups and cultures from my English Language & Spanish course to this experience" - Sophie Murray
Sophie said: "I'm thrilled to have been chosen to take part in the internship, and am so excited to work with Festival Republic and the University as a social media and web content creator at what will be my first time at Reading Festival.
"I can't wait to capture all the events happening backstage over the weekend, meeting performers and other festival goers while also investigating 'festival culture' as a topic. I plan to report the story of the festival from a range of different angles to try and understand how one event can bring people from so many different backgrounds to be part of one community. I'll be presenting my findings through various pieces of journalistic writing and content.
"I hope to bring my knowledge of studying different social groups and cultures from my English Language & Spanish course to this experience, as I'm sure I'll be meeting a huge range of people over the weekend."
Reading Festival hosts huge music and comedy acts from 23-25 August. The internship will allow Sophie to get closer to the action than other fans as she produces content for the festival's official social media accounts and blog, as well as access to the exclusive backstage area where she can mingle with the bands and VIP guests.
The University of Reading has taken a team of students to Reading Festival every year for the last five years. In 2015 the University partnered with Kerrang magazine to allow students the chance to interview bands and write reviews, following this up with a similar initiative with NME magazine the following year.
Since 2017, a partnership with Festival Republic has allowed a team of students to work backstage and produce their own original content on all aspects of festival life, from festival fashion trends to food stall reviews.
Professor Roberta Gilchrist, Research Dean for Heritage & Creativity at the University of Reading, said: "Reading Festival is a major part of Reading's cultural identity, so it's a major coup to be able to offer our students a unique experience of this iconic event. Arts & Humanities degrees teach students to think critically and to articulate and communicate their thoughts creatively. This is a valuable opportunity for our students to demonstrate skills that will equip them for the rapidly changing workplace.
"We have been impressed with the range of creative ideas submitted in applications by our students, and it will be exciting to see how they apply what they have learned on their courses to their internships and projects."