Reading in the News - Thurs 22 Aug
22 August 2019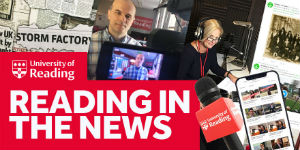 The Jungle Book: Dr Sue Walsh (English Literature) has written a piece for The Conversation on reading beyond the colonial stereotypes of Rudyard Kipling's classic story.
GCSE Results: Professor Helen Bilton (Education) was interviewed by BBC Radio Berkshire about the importance of GCSEs on the day that many teenagers receive their results.
Johnson meets Merkel: Dr Mark Shanahan (Politics & IR) is quoted by Al Jazeera in a piece on Boris Johnson's first meeting with Angela Merkel in Berlin to discuss a new Brexit agreement.
Tasty words: Dr Sylvia Jaworska (English Language and Applied Linguistics) appeared on BBC Radio Somerset to talk about her research into certain words which have the power to make us feel hungry. The Washington Time also runs a piece on the research.
Lyminge dig: CNN Indonesia has a piece on the discovery of one of the oldest churches in the UK at Lyminge, Kent, an excavation led by experts from the University.
Other News
The Ilkley Gazette has a piece on a retrospective exhibition at Ilkley Manor House to celebrate the life and work of artist Graeme Willson, who graduated from the University with a degree in Fine Art in 1973.
ArtNet News mentions the University's collaboration with the British Museum to build an archaeological storage facility at Thames Valley Science Park.
The Citizen (South Africa) has a report on a project led by the University into using artificial intelligence to help save pollinators, such as bees.