Reading Festival experience to be told by creative Art and English student
22 August 2019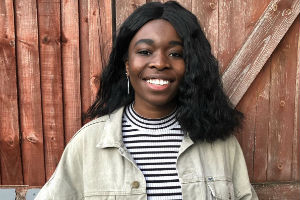 An Art and English Literature student will get a behind-the-scenes look at this year's Reading Festival after being selected to be part of a unique initiative.
Joke Amusan has been given a weekend ticket and brief to produce a creative response to the festival, which runs from 23-25 August.
She and the other chosen students can represent the festival in any way they choose, from artwork to a piece of creative writing. Joke plans to create some eco-friendly tapestries exploring how artists use their time on stage to convey a message, and encouraging students and the public to find their own voice.
Creative projects produced by the students will be submitted after the festival and exhibited a future date at the University of Reading.
"My creative project will comment on the diversity of Reading Festival, and how freedom of speech is exercised" - Joke Amusan
Joke said: "Being chosen to be part of the University of Reading team for Reading Festival is such an amazing opportunity, and I know it will be an invaluable experience. I am looking forward to watching the musicians sing live and basking in the vibe of the festival.
"I intend on drawing inspiration from the festival to create hessian tapestry artworks and write an article about my experience to tell my festival story. My creative project will comment on the diversity of Reading Festival, and how freedom of speech is exercised.
"My Art and English Literature degree will help me to express my creativity through the artworks I will create, and also write a concise and engaging article."
The University of Reading has taken a team of students to Reading Festival every year for the last five years. In 2015 the University partnered with Kerrang magazine to allow students the chance to interview bands and write reviews, following this up with a similar initiative with NME magazine the following year.
Since 2017, a partnership with Festival Republic has allowed a team of students to work backstage and produce their own original content on all aspects of festival life, from festival fashion trends to food stall reviews.
Professor Roberta Gilchrist, Research Dean for Heritage & Creativity at the University of Reading, said: "Reading Festival is a major part of Reading's cultural identity, so it's a major coup to be able to offer our students a unique experience of this iconic event. Arts & Humanities degrees teach students to think critically and to articulate and communicate their thoughts creatively. This is a valuable opportunity for our students to demonstrate skills that will equip them for the rapidly changing workplace.
"We have been impressed with the range of creative ideas submitted in applications by our students, and it will be exciting to see how they apply what they have learned on their courses to their internships and projects."