Reading in the News - Tues 27 Aug
27 August 2019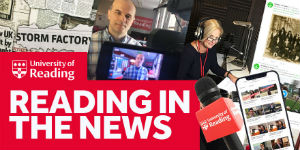 Climate stripes: BBC News shared a special report on climate change throughout the weekend, featuring Ed Hawkins' (NCAS) climate stripes graphic. The graphic was also shared by Five News, which featured an interview with research student Simon Lee.
Early climatologist: Professor Ed Hawkins is also mentioned in an article by Scientific American on John Tyndall, who is credited with the discovery of the absorption of thermal radiation by carbon dioxide and water vapor, in the late 1850s.
Processed meat: Professor Gunter Kuhnle (Human Nutrition) featured on London Live's The Truth About Meat programme, talking about nitrites and nitrates.
Wet weather: Professor Hannah Cloke (Geograpgy) is quoted in an article by New Scientist about the effect of global warming on wet weather.
NHS food: A 2010 study by the University into improving the quality of hospital food is mentioned in a variety of articles, including the Mail Online, Echo News, The London Economic and NewsPuddle, on a proposed a review of NHS food.
Four-day working week: iNews (and in print) has an article on the benefits of flexible working, mentioning research by Henley Business School which suggests switching to a four-day working week to save businesses money.
Air Turbulence: Professor Paul Williams' research into air turbulence is featured in a number of articles, including First News and CNA Lifestyle.
Other News
The Sunday Times interviews former Food Science student John Stapleton, co-founder of The New Covent Garden Soup Company.
Cotswold Life interviews former Estate Management student Rachel Brodie, who is the rural manager at Blenheim Palace.
BBC Radio 6 Music mentioned Professor Kevin Warwick, formerly of the University, who successfully implanted a microchip in his arm in 1998.
PhD student Akshay Deoras (Met) is quoted in an article by the Hindustan Times in an article on rainfall in Mumbai.
Postdoctoral researcher Dr Arathy Menon (NCAS) is quoted in an article by EOS on the floods which have devastated India.
Several American radio stations, including WAAF Boston and WOR-AM New York, featured a report on the effects of beetroot juice on lowering blood pressure, following a study by the University.
Professor Peter Stoneley (Literature) is quoted by The Reading Chronicle in an article about an upcoming exhibition on Oscar Wilde.
A summer fair, due to be held at the Harris Garden on September 8, is mentioned by The Reading Chronicle.
Professor Lindy Grant (History) reviews The Apple of His Eye: Converts from Islam in the Reign of Louis IX, a new book by William Chester Jordan, for History Today.
Newbury Weekly News reviews Reading University Drama Society's The Visitors.