Reading in the News - Weds 28 Aug
28 August 2019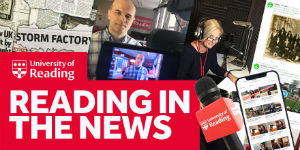 Reading Festival:
Border security: Professor James Ferryman's (computer science) research into border security technology is featured in a special report by the BBC.
Marie and Otto Neurath: The Guardian has a feature on the graphic design works of Marie and Otto Neurath, whose collection is housed at the University.
Hottest bank holiday: Dr Roger Brugge (Met) is quoted in an article by Berkshire Live about the latest heatwave, which resulted in the hottest bank holiday on record.
Other News
Business Daily Africa has an obituary to former Kenyan politician Dr Joyce Laboso, who studied for her Masters degree at the University.
Professor Paul Williams' (Met) report on air turbulence is featured on Swiss news website BlueWin.