#VotePlanet: Businesses have opportunity to 'take a stand against climate change'
01 December 2019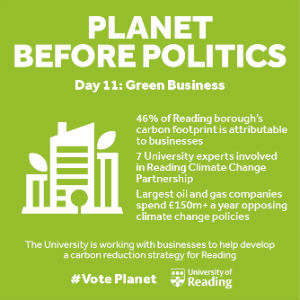 Experts from the University of Reading are lending a hand to authorities and business in Reading as they aim to hit an ambitious zero-carbon target.
Reading Climate Change Partnership (RCCP) was established this year to work across all sectors to establish a Climate Change Strategy for the Reading borough. It includes the ambition for Reading to be zero-carbon by 2030. An Adaptation Plan is due to be published following the General Election.
Businesses are responsible for 46% of Reading's carbon footprint. The Partnership therefore also includes the Reading Business Climate Action Network, and more than 50 organisations attended its launch in October.
Discussions by the Partnership have involved Professor Elizabeth Robinson (Agriculture), Dr Eugene Mohareb, Dr Phil Coker, Professor Li Shao, Dr Katherine Hyde and Dr Stefan Smith (all Built Environment) from the University. Professor Tim Dixon (Built Environment) is also on the board of the Partnership.
Professor Robinson, environmental economist at the University of Reading, said: "The Reading Climate Change Partnership is a fantastic example of how leaders from all sectors can come together and take action against climate change. It represents a collective commitment to making the changes that are absolutely necessary to stop global temperatures rising.
"Businesses will be key if we are to hit Reading's ambitious zero-carbon target. There is clear potential for significant improvements in this sector, so business leaders have the opportunity to take a stand and lead by example."
One action businesses worldwide can take to benefit the environment is stop their use of palm oil, or ensure that any palm oil is sourced from truly sustainable sources, to help prevent deforestation. Palm oil is used in around half of all toiletries, cosmetics and food products and the demand for it means rain forests and habitats are being cleared at a rapid rate to create space to grow it, particularly in Malaysia and Indonesia.
Professor Robinson is part of a programme looking at how the trade of natural resources, from wildlife to crops like palm oil, impacts people and the environment. The Trade, Development and the Environment Hub is backed by £20m over five years through UK Research and Innovation's Global Challenges Research Fund.
The oil and gas sector will also need to support efforts to reduce the planet's carbon footprint, yet the largest companies still spend millions of pounds a year lobbying against climate change policies.
Dr Slyvia Jaworska, Associate Professor of English Language and Linguistics at Reading, carried out a study in 2018 into the language used by major oil companies in their corporate social responsibility and environmental reports. She found that terms like 'global warming' were rarely used, while talk of 'fighting' climate change appeared to decrease in recent years.
#VotePlanet
The University of Reading's #VotePlanet campaign is highlighting the biggest threats facing the UK and global environment, as well as how research and action can combat them, in the lead up to the General Election on December 12.
Public concern for the environment has increased significantly in recent years, with political parties unveiling various eco-friendly pledges in their election manifestos.
The #VotePlanet campaign therefore aims to inform voters on the science behind these issues, and what sustainability action it is taking as an institution.
Follow the campaign on Twitter, Facebook and Instagram, and on the University news page. Get involved and share your examples of sustainable action using the hashtag #VotePlanet.