Reading in the news - Mon 2 Dec
02 December 2019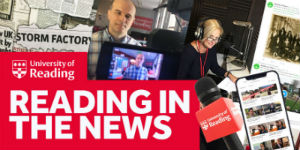 Bird evolution: A study of how the size of bird testes has changed over time is covered by the Times.
Education funding: Jean-Pierre Choulet (Henley Business School) is quoted by the Financial Times on how French business education institutions are funded.
Dopamine fasting: An article for The Conversation by Ciara McCabe (Psychology) on the craze of 'dopamine fasting' is republished by Raw Story and Alternet.
Cocoa protection: QI on BBC One mentioned the Cocoa Quarantine Centre at the University.
Soil policy: Farmers Weekly interviews Professor Chris Collins (GES) on how policies can help prioritise soil in farming.
Weather influences: Dr Robert Lee (Meteorology) was interviewed by Talk Radio about his study showing forecasts of weather patterns in the UK can be aided by looking at recent weather in the tropics and East Pacific.
Other coverage
Dr Glynn Percival (Biological Sciences) writes for ProLandscaper about a fungus threatening Cedar Trees.
Further coverage of the Great Western Railway train named after Nancy Astor on Spotlight on BBC One, in which Dr Jacqui Turner (History) was interviewed in the Astor Archive at the University, BBC Radio 4, BBC 6 Music, LBC Radio, BBC Radio Cornwall and Good Morning Britain on ITV. PhD student Melanie Khuddro (History) was interviewed by BBC Radio Berkshire.
The Express tells the story of how ITV weather presenter and Reading graduate Laura Tobin met her husband at the University.
Dr Charmi Patel (Henley Business School) was interviewed on BBC Three Counties Radio about the issues of people battling illness to come to work.
The Telegraph mentions that Capita boss Jon Lewis did a PhD at the University of Reading.
A Biomedical Engineering PhD student spoke about a carol concert she was leading at the University on BBC Radio Berkshire.
A former Reading student and reigning Miss Kent GB has set up a body confidence campaign, reports Kent Online.