#VotePlanet: Farming faces challenges in a changing climate
03 December 2019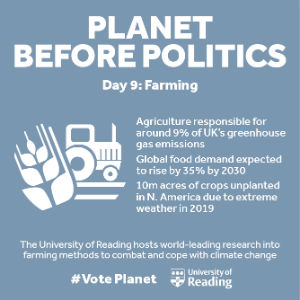 The impact of climate change on farming, and vice versa, will be a critical issue to address in the coming decades, and University of Reading research is playing a big part.
Agriculture is responsible for around 9% of the UK's total greenhouse gas emissions. With global food demand set to increase by 35% by 2030, there is growing pressure on the agriculture sector to produce enough crops while also preventing environmental harm.
Reading research is helping tackle issues such as making seeds more resilient to a changing climate, reducing pesticide use and changing farming practices to prevent biodiversity loss and flooding.
Intensive farming has become widely used to meet the food demands of the planet's rising population. However, this risks harming wildlife due to pesticide use and could increase flooding.
The LANDWISE team at the University of Reading have teamed up with farmers, local authorities and the public to reduce flooding by through less intense land management, such as choosing different crops and planting more trees. The project is backed by £1.25m of NERC funding.
Crop science research at Reading is also investigating the impacts of weather like droughts on crop production. A project led by Professor Donal O'Sullivan used drone observations to monitor loss of crops due to drought in 2017, and also aims to identify varieties that are more resilient to drought.
Other research is exploring environmentally friendly alternative feeds that also reduce methane emissions from livestock.
#VotePlanet
The University of Reading's #VotePlanet campaign is highlighting the biggest threats facing the UK and global environment, as well as how research and action can combat them, in the lead up to the General Election on December 12.
Public concern for the environment has increased significantly in recent years, with political parties unveiling various eco-friendly pledges in their election manifestos.
The #VotePlanet campaign therefore aims to inform voters on the science behind these issues, and what sustainability action it is taking as an institution.
Follow the campaign on Twitter, Facebook and Instagram, and on the University news page. Get involved and share your examples of sustainable action using the hashtag #VotePlanet.