#VotePlanet: Pollinator threats risk damaging global food production
04 December 2019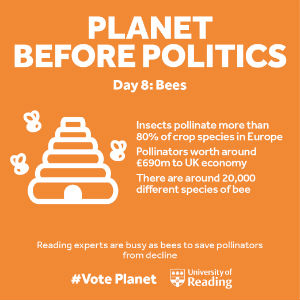 Reading pollinator researchers are collaborating with partners around the world, including the UN, UK government and even computing specialists to prevent a decline in pollinators.
Pollinators contribute more than £500m a year to the UK economy and support the production of 80% of Europe's crop species. However, they face multiple threats from intensive land use, pesticide use and climate change.
World-leading experts at the University of Reading have made recommendations such as creating green corridors on agricultural land to allow bees to move around and changing how crops and wildlife are managed.
Dr Deepa Senapathi, Senior Research Fellow in Sustainable Land Management at the University of Reading, said: "The world would look very different without pollinators like bees. At Reading, we are investigating how human action is impacting pollinators as well as exploring solutions to help reverse declines.
"Additional policies and actions across all sectors are required to help overcome or remove some of the threats facing pollinators. It is vital we prevent a decline in pollinators or we will face consequences like food shortages and damage to ecosystems."
Professor Simon Potts, Professor of Ecosystem Services at the University of Reading, co-chaired a UN report into pollinator decline in 2016. It called for changes to policies to take action to help pollinating insects.
Reading partners with Defra on its annual Bees' Needs Week, contributing to public activities in Carnaby Street in London that highlight the importance of pollinators to visitors.
Research earlier this year showed that towns and cities can also play a big role in protecting bees. The study revealed that gardens, allotments and even grass verges next to roads act as conservation havens for pollinators, while weeds provide important food sources.
Reading was also part of the World Bee Project, which pioneered the use of artificial intelligence technology in monitoring how bees interact with the environment.
Other projects are predicting how policy changes could shape future landscapes, and impact society.
#VotePlanet
The University of Reading's #VotePlanet campaign is highlighting the biggest threats facing the UK and global environment, as well as how research and action can combat them, in the lead up to the General Election on December 12.
Public concern for the environment has increased significantly in recent years, with political parties unveiling various eco-friendly pledges in their election manifestos.
The #VotePlanet campaign therefore aims to inform voters on the science behind these issues, and what sustainability action it is taking as an institution.
Follow the campaign on Twitter, Facebook and Instagram, and on the University news page. Get involved and share your examples of sustainable action using the hashtag #VotePlanet.