#VotePlanet: University shows cutting carbon is possible through everyday choices
06 December 2019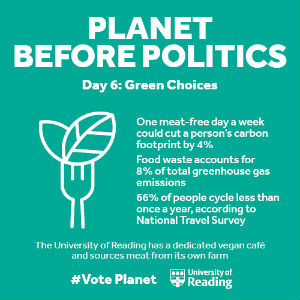 Reading experts are coming up with solutions to help people ease the strain on the environment with their everyday choices.
Many small actions we do regularly without thinking have an impact on the environment, whether it is using disposable materials like takeaway coffee cups or consuming food with a relatively high carbon foot like meat or some imported goods.
Research at the University of Reading is helping to highlight the problems some of these actions cause and how we can reduce them. A host of eco friendly actions have also been taken on campus to ensure staff and students can make positive choices.
Research show that the actions involved in feeding urban populations, such as transporting and refrigerating it, accounts for up to 30% of global greenhouse gas emissions.
Academics in Reading's School of the Built Environment have shown changing food choice is therefore one of the most effective ways people can reduce their carbon footprint. A 2018 Reading study found people living in cities could reduce food-related carbon emissions by 11% by taking simple actions like reducing how much food they throw away and going meat-free one day a week.
Food and Nutritional Science students have worked to make vegetarian food alternatives more appealing. They have won awards in the annual nationwide Ecotrophelia competition for their products, from vegan energy sweets to sushi made from cauliflower.
Cycling instead of driving is another choice that can reduce someone's carbon footprint. Reading researchers have conducted studies into the health benefits of cycling for the older population and identifying the reasons why many people are unwilling to cycle.
Organic foods have grown in popularity as a way of reducing the impact on the environment of pesticides and other associated carbon emissions. However, a recent study involving Reading's School of Agriculture, Policy and Development showed that moving to 100% organic farming would actually see greenhouse gas emissions increase as more land would be needed and more food would have to be imported.
The University's Dol.cHe Vita café is 100% vegetarian, as are two new shops recently launched on campus. They stock products from cooperative, vegetarian company Suma and allow customers to buy many products from refill stations.
Two male cows from the University's farm in Shinfield are delivered every month, which would otherwise not be used in the food chain. This not only significantly reduces food miles, but is low-waste, as every bit of the cows is used, from the meat down to the bones, which are used for stock or given away to dog owners.
The Dairy, the University bar located on its London Road campus, is a craft beer bar, which aims to support local brewers and reduce food miles by sourcing most beers from Berkshire and all from the UK.
#VotePlanet
The University of Reading's #VotePlanet campaign is highlighting the biggest threats facing the UK and global environment, as well as how research and action can combat them, in the lead up to the General Election on December 12.
Public concern for the environment has increased significantly in recent years, with political parties unveiling various eco-friendly pledges in their election manifestos.
The #VotePlanet campaign therefore aims to inform voters on the science behind these issues, and what sustainability action it is taking as an institution.
Follow the campaign on Twitter, Facebook and Instagram, and on the University news page. Get involved and share your examples of sustainable action using the hashtag #VotePlanet.