Reading in the News - Fri 6 Dec
06 December 2019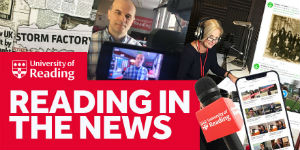 Sea temperatures: A study, led by Professor Chris Merchant (Met), analysing sea temperature change over 35 years, is covered in an article by the European Space Agency.
Climate migrations: Diana Giraldo (Agriculture) is mentioned in a blog by the Earth Institute at Columbia University on research into the causes of migration in Central America, which considers climate and socioeconomic factors to see if migration can be better predicted and explained.
Other coverage
Tara Pirie (Ecology and Evolutionary Biology) joined BBC Radio Berkshire for its weekly Coffee Club, discussing various topics.
BusinessLive reports on the launch of an alumni chapter of Henley Business School in South Africa.
The Tab has a report on a student who has been suspended following an attempted occupation of the ICMA Centre last weekend.
A report into the benefits of a four-day working week by Henley Business School is mentioned in an article by Geographical on how the environment could be affected.