Reading in the news - Mon 9 Dec
09 December 2019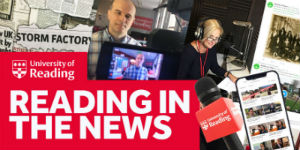 Indian Ocean Dipole: BBC News Online and Inilah.com quote Dr Andy Turner (Meteorology) on how sea temperatures in the Indian Ocean are linked with both bushfires and flooding in different parts of the world.
UK Flooding: Professor Hannah Cloke (GES and Meteorology) is quoted in a Times piece looking at the growing problem of flooding in the UK.
Studying experience: The Financial Times features a Henley Business School student who won a Women in Leadership Award on why she wanted to study for an MBA.
European citizenship: The Jewish Chronicle quotes Dr Ruvi Zeigler (School of Law) on a rise in the number of UK Jews obtaining citizenship in EU countries.
Andrew Palmer: The Times runs an obituary on British diplomat Andrew Palmer, whose family donated the London Road site to the University of Reading in the early 1900s. He served on the University Council, was chairman of the Friends of the University of Reading until 2016 and held an honorary degree. Read our story on the Staff Portal.
Robot vs superbug: Hackaday reports on a new method, created by a team led by Al Edwards (Pharmacy), of analysing lab samples using a modified 3D printer.
Other coverage
GetReading notes that a hustings event was held at the University of Reading last week.
BBC South reports on homelessness charity Launchpad celebrating 40 years since it was founded by Reading students.
TalkRADIO discussed a study by Dr Joanna Baker (Biological Sciences) that showed birds' testes have shrunk due to their mating habits. Read our news story.
Phys.org quotes Chris Merchant (Meteorology) on a new study he led that collates historic sea temperature records.
Accaglobal quotes Professor Andrew Kakabadse (Henley Business School) on ethics in business.
Share Radio interviewed Ardi Kolah (Henley Business School) on his career and book on implementing GDPR.
Business Standard, MedIndia and Devdiscourse report on a study showing probiotic and prebiotic supplements may have different effects on boys and girls. Read our news story.
This Day reports on Henley Business School's presence in Africa.
Adhesives and Sealants reports on a new adhesive, co-developed by Professor Wayne Hayes (Chemistry) at Reading, that unsticks when placed in a magnetic field.