#VotePlanet: Renewable energy 'a big player in global decarbonisation'
10 December 2019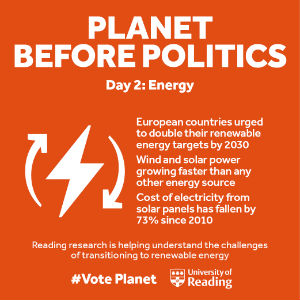 Transitioning to renewable energy will form a large part of the world's efforts to reduce greenhouse gas emissions, but will present new challenges to overcome.
Wind and solar power are growing faster than any other energy source, and now provide 6% of electricity generation globally – up from 0.2% at the turn of the century. Nevertheless, the International Renewable Energy Agency has urged European countries to double their renewable energy targets in order to halt global warming.
Scientists at the University of Reading are developing new ways to predict how energy systems will cope with peaks in demand and changes in the weather to support modern-day society. They are also investigating how consumers can be part of this solution, by changing their habits to reduce the strain on electricity supply.
Dr Hannah Bloomfield, NCAS research scientist at the University of Reading, said: "Renewable electricity will be a big player in global decarbonisation. But it also means our energy supply is becoming far more sensitive to changes in weather.
"Despite this, we still don't really understand how to properly harness the power of nature to generate power. Our research aims to improve this understanding through developing models that capture both changes in demand and weather conditions.
"This will also help us to understand how present and future power systems may be sensitive to weather, and how best to adapt to cope with this."
Reading experts are leading a range of programmes investigating how electricity generation will be impacted by a changing climate, to allow better decisions to be made when transitioning to renewable sources.
Among these is work by Dr Bloomfield and colleagues using state-of-the-at climate model data to predict how changes in weather impact power generation and demand, now and in the future.
Reading is playing a leading role in the £19.5m UK Centre for Research on Energy Demand, which is investigating how changing energy use habits could reduce the cost of electricity. The price of electricity currently fluctuates greatly depending on demand, increasing almost tenfold at peak times.
The Centre is exploring how rewarding consumers for using energy at non-peak times and allowing electric vehicle owners to sell unused energy back to the grid could help reduce these peaks in usage, making it easier for energy suppliers to predict and cope with demand.
Battery storage will also be an important area for research and business in the future. Reading Engineering graduate Marek Kubik went on to lead the UK client solutions team for AES Energy Storage, the company behind the world's largest operational battery energy storage system.
#VotePlanet
The University of Reading's #VotePlanet campaign is highlighting the biggest threats facing the UK and global environment, as well as how research and action can combat them, in the lead up to the General Election on December 12.
Public concern for the environment has increased significantly in recent years, with political parties unveiling various eco-friendly pledges in their election manifestos.
The #VotePlanet campaign therefore aims to inform voters on the science behind these issues, and what sustainability action it is taking as an institution.
Follow the campaign on Twitter, Facebook and Instagram, and on the University news page. Get involved and share your examples of sustainable action using the hashtag #VotePlanet.