#VotePlanet: Towns and cities need a 'refreshed vision' to cope with future challenges
11 December 2019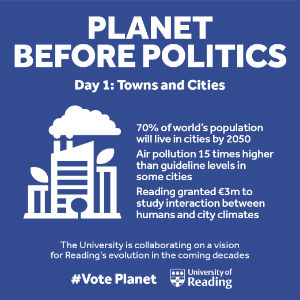 Increasing populations and a changing climate pose challenges for our future towns and cities, but also many opportunities.
More than half of the world's population currently live in cities, and this is set to increase to 70% by the middle of the century. Yet, people living in urban environments are far more exposed to air pollution as well as higher temperatures due to trapped heat.
Reading researchers are helping to predict how humans will interact with city climates in future, as well as how exposed populations are to hazards like air pollution.
The Reading 2050 project, co-created as a partnership between the University and planning and design consultancy Barton Willmore, is also outlining a vision for a more sustainable town of Reading in 30 years' time. Recommendations include making better use of renewable energy and better utilising features like rivers and parks for the good of the environment.
Professor Tim Dixon, Processor of Sustainable Futures in the Built Environment at the University of Reading, said: "The Reading 2050 project aims to bring together key stakeholders in a co-created city vision. We have brought together University expertise and linked this with the important voices of business, local government and civil society.
"The ambition is to develop a vision for Reading which will enable everyone to better understand how Reading could transition to a smart and sustainable net zero carbon future, drawing on Reading's strengths as a centre for digital innovation, green thinking and heritage and culture. But no vision is ever complete, so we are continuing to work with key stakeholders to develop and refresh the vision."
A project led by Reading's Professor Sue Grimmond was awarded €3m to investigate how human behaviour will impact urban climates in future, and how cities and people will need to adapt to cope with new threats. Possible changes include changing working hours or building tall buildings next to shorter ones to improve air circulation.
The University of Reading has teamed up with architecture experts in Santo Tomas in Manila, in the Philippines, to study urban design, including green infrastructure and how small cities can retain an identity.
The Whitley Researchers project, led by Dr Sally Lloyd-Evans, aims to make the Whitley area of Reading a more inclusive and sustainable place to live. Its work led to the introduction of a new bus route to serve residents, which also supports Reading's ambition to reduce car use in the borough.
#VotePlanet
The University of Reading's #VotePlanet campaign is highlighting the biggest threats facing the UK and global environment, as well as how research and action can combat them, in the lead up to the General Election on December 12.
Public concern for the environment has increased significantly in recent years, with political parties unveiling various eco-friendly pledges in their election manifestos.
The #VotePlanet campaign therefore aims to inform voters on the science behind these issues, and what sustainability action it is taking as an institution.
Follow the campaign on Twitter, Facebook and Instagram, and on the University news page. Get involved and share your examples of sustainable action using the hashtag #VotePlanet.