Reading flood expert receives OBE from HRH Prince Charles
10 December 2019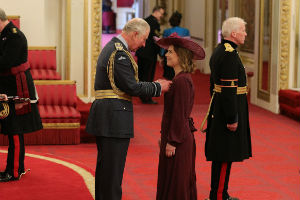 One of the UK's leading experts in flooding received an OBE from His Royal Highness, Prince Charles at Buckingham Palace on Thursday 5 December.
Professor Hannah Cloke, professor of hydrology at the University of Reading, was invested as an Officer of the Order of the British Empire (OBE) during the Queen's Birthday Honours for her services to flood forecasting and the development of hazard early warning systems.
Professor Cloke was invited to Buckingham Palace on Thursday to be presented with her award by HRH Prince Charles in an investiture ceremony.
"We've made great strides in predicting where floods will hit, how bad they will be and when they will happen" - Professor Hannah Cloke, University of Reading
Speaking of her visit to the palace, Prof. Cloke said: "It was quite an overwhelming experience; everyone was very nervous beforehand. I had been invited to the Queen's garden party in the past, but this was the first time I have ever had a proper conversation with a member of the Royal family.
"Prince Charles asked me about natural flood defences and my work around flood forecasting. He seemed very knowledgeable of the subject. To talk to him about my work, even if it was just for a few minutes, was very special."
Professor Cloke's work includes advising the UK government on national and international flooding incidents, such as the 2013/2014 winter floods in the UK. She was also instrumental in advising the UK government and humanitarian partners on preparation for the severe floods in East Africa earlier this year.
She said: "We've made great strides in predicting where floods will hit, how bad they will be and when they will happen. This information allows civil protection authorities and humanitarian agencies to make better decisions and take action to prepare before floods even happen, meaning many more lives can be saved."
Working with partners at the European Centre for Medium-Range Weather Forecasts and the European Commission, Professor Cloke's Reading team has used the latest global earth system models to develop world-leading flood modelling systems that allow early warnings to be provided ahead of severe flooding events.
The team produced up-to-date forecasting reports for the Department for International Development and humanitarian partners to guide aid efforts in Mozambique following Cyclone Idai and Cyclone Kenneth.
Professor Cloke co-directs the Natural Environment Research Council's (NERC's) Flooding from Intense Rainfall programme and works closely with other local, national and international partners such as the Environment Agency, the Met Office, flood forecasting agencies around the world and local flood groups. She was awarded the Plinius Medal by the European Geosciences Union in 2018.