#VotePlanet: Politicians have chance to 'put the planet before politics'
12 December 2019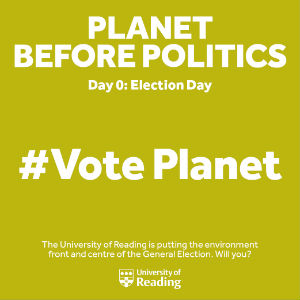 Voters head to the polling stations on Thursday (12 December), after a General Election campaign when the environment was high among party priorities.
Surveys by YouGov indicate that the environment is second only to Brexit on the list of concerns for young people in the UK, and fourth among the wider population.
The University of Reading's #VotePlanet campaign has been sharing the latest findings on the biggest environmental issues facing the UK and the world, to help voters to make an informed choice on polling day.
This includes a snap analysis of weather and election result data to determine what effect the weather on polling day has on turnout and vote share between parties.
It has also highlighted where the University has taken action to reduce its own carbon footprint or give students and staff the opportunity to make more eco-friendly decisions on campus.
Professor Robert Van de Noort, Vice-Chancellor of the University of Reading, said: "Whatever the outcome of the General Election, parties now have the chance to put the planet before politics by considering environmental policies.
"The environment has leapt up the list of concerns among the UK population in recent months. Our campaign has been arming voters with knowledge to help them digest environment policy announcements and make an informed choice when they cast their vote."
The University of Reading has been sharing examples of its environmental research, teaching and institutional action across a range of themes, including flooding, trees, climate change, plastic waste and transport.
A new theme was explored each day for the three weeks leading up to the election. Read more about the campaign and browse every theme at https://archive.reading.ac.uk/2019/November/pr831140.html
#VotePlanet Election Countdown recap
Day 21: Carbon Cutting
Day 20: Floods
Day 19: Trees
Day 18: Wildfires
Day 17: Extreme Weather
Day 16: Air Pollution
Day 15: Transport
Day 14: Green Growth
Day 13: Wildlife
Day 12: Plastic Waste
Day 11: Green Business
Day 10: Climate Change
Day 9: Farming
Day 8: Bees
Day 7: Soil
Day 6: Green Choices
Day 5: Plants
Day 4: Seas and Oceans
Day 3: Drought
Day 2: Energy
Day 1: Towns and Cities