Will bad weather on polling day change the outcome?
12 December 2019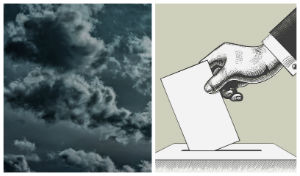 Politics and weather experts at the University of Reading suggest that rain could impact turnout in tomorrow's election – but agree the future political landscape is harder to forecast.
Rain, some snow and cold conditions are forecast across the UK on polling day, leading some voters to wonder if changes in turnout could influence the overall result.
A snap analysis of weather and voting records by researchers in political science and meteorology at the University of Reading shows that while turnout may be down in some seats, there is little evidence that individual parties will benefit significantly due to the weather.
Dr Mark Shanahan, head of the Department of Politics, and Dr Rob Thompson, a storms researcher in the Department of Meteorology, combined data from the University of Reading's weather station with post-war voting figures from the Wokingham constituency in which it sits.
Their analysis suggested that:
RAIN: Turnout actually tends to increase on rainy days by around 4%
COLD: Turnout increases the colder it is – with each degree Celcius drop leading to an increase of around 0.4%
SWING: Vote share for Conservative and other right wing candidates tends to increase by around 0.5% every degree warmer it is
Dr Thompson said: "Our study is rough, and mostly uses data from elections in summer months. But our analysis suggests that the biggest turnouts require cold and wet conditions, something that looks likely on Thursday. Being colder also suggests a slight swing to the left.
"We also looked at hours of sunshine over the 19 elections here, but we found no link between sunshine and turnout or vote swing, suggesting that the shorter winter days might not have as big an impact as some people would think.
"Based on the weather forecast alone, I'm predicting a John Redwood victory for the Conservatives and an increased turnout."
Based entirely on weather and past voting data, the researchers have calculated that, this Thursday in Wokingham:
Turnout will reach 78% (with a 4% margin of error)
Conservatives will win with a 51% vote share (7% margin of error)
Political historian Dr Shanahan said: "This is the first December election in the UK since December 6 1923 – a cold, dry day – after which the UK had a hung parliament. National turnout increased on a rainy day 10 months later, when the Conservatives trounced Labour.
"As our Wokingham figures show, bad weather is a pretty poor predictor of a suppressed voter turnout or intention. People are far less likely to vote if they don't feel engaged in the race, either in perceived 'safe' seats, or when manifestos are fairly similar across parties, as was the case in the Blair year.
"But if a race is tight, either locally or nationally, and there's a distinct choice between parties, turnout tends to rise."