CBD-based epilepsy drug team gets Pharmacology award
17 December 2019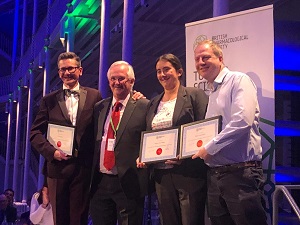 Children suffering with forms of epilepsy got a major boost this year as a cannabinoid-based drug was approved on the NHS.
The drug, Epidyolex (Epidiolex in US) was developed by GW Pharmaceuticals following more than 20 years of research carried out at the University of Reading. The academic team includes Professor Claire Williams and Dr Gary Stephens and former Reading academic Professor Ben Whalley, who received the prestigious 2019 Sir James Black award for Drug Discovery for their efforts.
Prof Claire Williams, a Professor of Neuroscience at the University of Reading who first started working on cannabinoids in 1996 said:
"It is a special moment for me to see a drug approved for use on the NHS after more than 20 years of personal research into the topic.
"I am delighted to receive such a prestigious award but more than that, it's a great honour and the stuff of dreams to see a drug that I've worked on made available to relieve the profound suffering that so many children with forms of epilepsy experience."
In 2010, the research team published promising results from studies in animal studies. The research showed that two different non-psychoactive cannabinoids, one of which was cannabidiol (CBD), reduced the number and severity of seizure episodes in animals that had been treated to model the symptoms of epilepsy.
Professor Gary Stephens, whose work alongside Prof Williams and Prof Ben Whalley developed the foundation of pre-clinical work that led to the development of Epidiolex said:
"The Sir James Black award is a significant achievement and a great honour not just for Claire, Ben and myself but for the University of Reading as a whole. It's rare for a body of research to end in this kind of success and we're privileged to have been able to play an important role in working on the understanding of cannabinoid treatments."
Read a blog charting the development of cannabinoid research at the University of Reading at:
https://research.reading.ac.uk/research-blog/10-years-in-the-making-drug-discovered-by-reading-scientists-reaches-uk-children-with-severe-epilepsy/
Epidyolex (also called Epidiolex in the US) is for use as an adjunctive therapy of seizures associated with Lennox‑Gastaut syndrome (LGS) or Dravet syndrome, in conjunction with clobazam, for patients 2 years of age and older.