Reading in the News - Weds 18 Dec
18 December 2019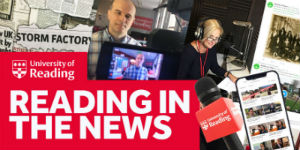 Children of climate change: A report into the rising health risks associated with climate change, co-authored by Professor Elizabeth Robinson (Environmental Economics) is featured in articles by Science Focus (and online).
Silver shoppers: An article in Raconteur in The Times on how retailers can target older consumers online features comments from Professor Moira Clark from Henley Business School.
Fussy eaters: The Daily Mail reports on a study carried out by the University of Reading on how to encourage young children to enjoy eating vegetables from a young age, quoting Dr Natalie Masento (Food and Bioprocessing Sciences).
Apples and cholesterol: Further coverage of a Reading study (Food & Nutritional Sciences) showing eating two apples a day helps reduce the risk of heart disease appears on Fox News, The Times, The Health Site, NDTV, Reading.co.uk, and NHS Choices.
Other News
<!--[if !supportLists]-->· <!--[endif]-->BBC Radio 4 visited the Museum of English Rural Life (MERL) for a piece about the history of steam thrashing in agriculture.
<!--[if !supportLists]-->· <!--[endif]-->The Evening Mail features an obituary to John Ainsworth Brown, a former bomber pilot who attended the University to study agriculture after the Second World War, who has died at the age of 96.
<!--[if !supportLists]-->· <!--[endif]-->The Grave Goods project collaboration between the Universities of Reading and Manchester and the British Museum features in an article by Bridport News.
<!--[if !supportLists]-->· <!--[endif]-->The Daily Gazette reports on a collaboration between the University of Reading and Colchester Archaeological Trust to explore the town's Roman cremation burials.
<!--[if !supportLists]-->· <!--[endif]-->Public Law Today reports on news the University is the appoint law firms to a legal services framework worth an estimated £1m over four years.