Reading in the news - Mon 16 Dec
16 December 2019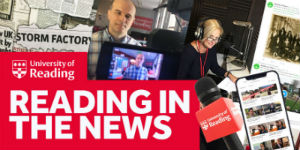 Two apples a day: Reading research (Food & Nutritional Sciences) showing eating fruit helps lower the risk of heart disease function is covered by The Times, The Sun, Mail Online, Long Room and dozens of news sites around the world, plus BBC Radio 2 and several regional BBC radio stations. Read our news story.
COP25: Professor Richard Allan (Meteorology) was interviewed by BBC World Service about the outcome of talks between delegates at COP25 on climate action.
Voice power: The Sunday Times features a book by Professor Jane Setter (English Language and Applied Linguistics) on voices and accents. Read our news story.
Contagious moods: The Times Education Supplement reports on research led by Dr Kou Murayama (Psychology) on whether enthusiasm or grumpiness is more infectious within a group.
Election weather: A Reading study (Meteorology and Politics & International Relations) of whether there is a link between polling day weather and voter turnout/election results was mentioned in the Financial Times election live blog. Read our news story.
Nitrites: The Truth About Meat on London Live interviews Dr Gunter Kuhnle (Food & Nutritional Sciences) about the use of nitrites in processed meat, and their health implications.
Other coverage
Berkshire Live uses the One Hundred Years of Reading weather book, authored by Dr Roger Brugge and Stephen Burt (Meteorology), to look back the last time Reading had a white Christmas.
Conserve Energy Future quotes Professor Keith Shine (Meteorology) on World Meteorological Organization figures showing 'exceptional' heat globally during the last decade.
Pig World reports on a Reading study (Food & Nutritional Sciences) showing probiotics and prebiotics work differently in male and female pigs.
Poultry News reports on an online animal science course offered by Reading to raise awareness of antimicrobial resistance in livestock production.
Matthew White, director of Catering, Hotel and Conferencing at Reading and chair of the University Caterers Association, writes a piece on the latest trends in the catering industry for University Business.
Farming today on BBC Radio 4 trailed next week's focus on the use of data in agriculture, which will feature research at the University of Reading.