Reading in the News - Thurs 19 Dec
19 December 2019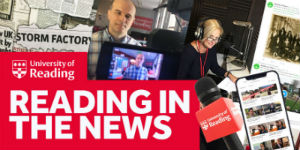 Seeds under threat: Richard Ellis (Agriculture) writes a piece for The Conversation which suggests that climate change is affecting the amount of food farmers can produce and the quality of seeds for future crops. The article has been shared by Yahoo News.
Zero waster Christmas: BBC South Today features a report on a group of University students who are aiming to have a zero waste Christmas by making gifts and recycling their Christmas dinner leftovers.
Fish oils and heart health: BBC Radio Berkshire reports on a new partnership between the University and the British Heart Foundation looking at the effect fish oils, such as omega-3, have on reducing blood pressure. Read our original story here.
Fussy eaters: Further coverage of a study carried out by the University of Reading on how to encourage young children to enjoy eating vegetables from a young age is featured by US TV station KNBC Los Angeles, The Sun, and The Daily Mail. Read our original story here.
Apples and cholesterol: : Further coverage of a Reading study (Food & Nutritional Sciences) showing eating two apples a day helps reduce the risk of heart disease appears on US TV stations including KDVR Denver and WXIN Indianapolis. Read our original story here.
Trust in farmers: Farming Life, Farming UK and Phys.org report on a consumer survey carried out by EIT Food, one of the University's partners, which shows that farmers are considered the most trustworthy part of the food production chain, quoting Dr Anna Macready (Agriculture). Read our original story here.
Other News
The Mail reports on a medieval fishing basket that have been uncovered in the Severn Estuary, and mentions another group of baskets from the area which were carbon dated by the University of Reading seven years ago.
Kate Williams (History) spoke to BBC Radio Ulster about the history of Christmas.
Former Reading student Laura Tobin (Met) spoke about her time at the University on Good Morning Britain, recalling a time when she had to stand in for a badminton tournament for the Physics department.
The Grave Goods project collaboration between the Universities of Reading and Manchester and the British Museum features in an article by the Dorset Echo.