IEA wins climate services contract in China
19 December 2019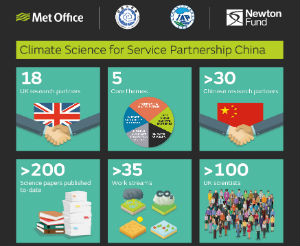 The Institute for Environmental Analytics (IEA) has been awarded a contract to use its world-leading data analytics expertise to support the take-up of climate services in China in the face of climate change.
The 18-month project, VIEWpoint, will include designing easy-use online data visualisations for the mutual benefit of the UK and China, in partnership with the Chinese Meteorological Administration and the Institute of Atmospheric Physics, part of the Chinese Academy of Science.
The work builds on existing climate research outputs of the 5-year Climate Science for Service Partnership (CSSP) China project, supported by the UK Government's Newton Fund as part of the Met Office's global Weather and Climate Science for Service Partnership (WCSSP) programme which also covers India, South Africa, Southeast Asia and Brazil. Its aim is to develop partnerships harnessing UK scientific expertise to strengthen the resilience of vulnerable communities to weather and climate variability. The contract was awarded to the IEA by the Met Office.
Colin McKinnon, CEO of the Reading-based IEA, said: "This is a further global partnership for the IEA, making use of our first-class skills in data visualisation, capacity building, engagement and effectively communicating climate research directly to decision-makers. The partnership reflects China's desire to work with the UK on global challenges. We are excited to be moving into such an influential part of the world.
"At the end of the partnership we will be handing over to the Met Office a purpose-built online platform collating existing climate science outputs, co-designed with stakeholders."
The IEA will be liaising with Chinese Government agencies, their national and provincial public sector and climate services entrepreneurs.
Chris Hewitt, Met Office Head of International Climate Services, commented: "A huge amount of work has been undertaken across the CSSP China project to date and now is a good time to draw together outputs and knowledge. This will allow stakeholders to come into contact with the work and grow an understanding of the relevance of the science and services for society. We are excited at the opportunity that the VIEWpoint project presents to provide an engaging experience for stakeholders."
The IEA continues to expand its team of data science, AI, software and statistical modelling experts, developing rapid turn-around demonstrator and R&D services to clients across a wide range of sectors including infrastructure, agriculture, energy and climate services to turn data into competitive advantage. Find out more at www.the-iea.org
About the IEA:
The IEA is a world-leading applied research and development organisation focused on supporting clients who understand the opportunity afforded by environmental data analytics to manage risk, improve business operations and open up new markets.
We work with organisations large and small to help them turn data into competitive advantage through visualising existing data sources, analysing past historical trends and developing predictive analytics tools. We also offer tailored training programmes to develop in-house capacity for data analysis.
Our projects cover a range of areas where environmental data is a strong driver such as energy, agriculture, infrastructure monitoring, international development and risk management. All are focussed on quickly but effectively trialling new ideas and de-risking clients' investment in new products, services or business processes.
With strong links to a range of partners across the data supply chain, from Earth Observation companies to cloud platform providers and leading universities, we are well positioned to help our clients gain real value from the ever-growing quantity of data being created. For more information on the IEA please visit www.the-iea.org or email info@the-iea.org