Empty Reading shop exhibition showcases a video installation by New York based artist Patricia L. Boyd
12 February 2019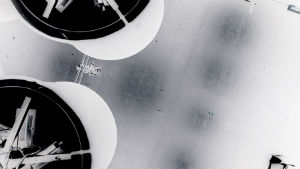 An empty shop in Reading town centre is being used for an art exhibition.
The solo exhibition Inter- by New York based artist Patricia L. Boyd is configured as a response to the exhibition site – an empty shop unit in the Broad Street Mall – and features a single-channel video installation. A series of posters will be developed in collaboration with artist Tom Ackers over the duration of the exhibition and will be presented in several locations across Reading town centre.
The installation is comprised of two walls built close to one another to form a corridor, and a video, titled Operator (Refinanced I). The video showsfootage of a single room captured from four different perspectives, Operator (Refinanced I) and is partly edited according to a rule-based system.
"It is an excellent opportunity to showcase our work with international artists and to highlight what an exciting cultural offer could mean to the town" - Professor susanne Clausen, Director of Reading International
The timeframe of each section within the video is determined by data extracted from the calculations of a loan repayment scheme that imagines the artist's commission fee as a loan that is paid back, with a 5% interest rate, over the period between the start of the commissioning process and the exhibition's opening date. The anxiety provoked by the work's absurdly rendered temporal and physical constraints is suggestive of debt's function as a form of social control.
Professor Susanne Clausen, from the Reading School of Art at the University of Reading and Director of Reading International, said: "The project was curated by NOVEL in response to the pedagogic experiments developed by artist and lecturer Rita Donagh at the Reading School of Art in the 1970s, which in turn were a response to the social and political situation at the time.
"We are delighted to present this exhibition in the unusual location of the shopping mall, as it enables different connections and interpretations. At the same time it is an excellent opportunity to showcase our work with international artists and to highlight what an exciting cultural offer could mean to the town."
Live performance
Reading International has a campaign, #ArtistsNeedSpace, and is seeking currently empty spaces in Reading that could be used by artists. These could be empty retail units or buildings or 'artist in residence' opportunities. It aims to support the artistic talent in the community and turn Reading into a cultural hub.
Inter- is the fourth exhibition in a year-long project by curatorial and publishing platform NOVEL, titled A reproduction of three weeks in May 1970. It will run until 15 March from 12pm-4pm Wednesday to Saturday.
The video was first exhibited in its original form in New York in 2017. The current exhibition has been arranged with permission and support from Broad Street Mall.
A live performance, titled The Riddle of the Imp on the Mezzanine (My Journey), also took place on the exhibition's opening day on Saturday 9 February, in the basement of the shop. The performance, by Steven Warwick, looks at how forces of social evil, religious retribution and redemption can be seen in popular culture and folklore.
Nicola Williamson, Centre Manager at Broad Street Mall, said: "We're delighted to be working with the University of Reading to showcase the work of such talented artists. There has been a great response from the opening show and we look forward to future collaborations with Reading International."
Reading International is a collaboration bringing world class art to Reading, and involves the University of Reading, Reading Borough Council and Arts Council England, supported by a grant from European Union within the framework of the Culture Bridges Programme.
Between January 2017 and December 2018, Reading International has delivered to an audience of around 43.000 people. It has delivered more than 60 events, including exhibitions, performances, screenings and talks, worked with 65 artists and conducted workshops with over 1,000 participants, including local audiences, partners, youth groups and school children.
Find out more about Reading International projects and exhibitions at https://readinginternational.org/
More information on the #ArtistsNeedSpaces campaign can be found at https://readinginternational.org/programme/artistsneedspace/