First look at historic Nancy Astor statue as designer chosen
15 February 2019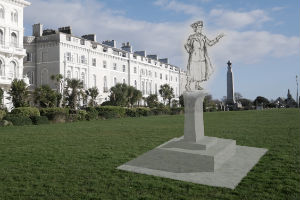 The installation of a statue commemorating Nancy Astor, the first female MP to sit in UK Parliament, has moved a step closer after an artist was chosen to sculpt it.
Hayley Gibbs was today announced as designer of the statue by the committee that ran a successful crowdfunding campaign to raise the required money to commission it. The target of £125,000 was hit on January 30, allowing the committee to move onto the commissioning stage.
Sketches from the statue design bid have been released and it is planned to be erected outside her former family home in Plymouth later this year to mark the 100th anniversary of Lady Astor's election as MP for Plymouth Sutton on November 28 1919.
See sketches and more details in the artist's design bid >>>
Dr Jacqui Turner, Historian and international Astor scholar at the University of Reading, is a member of the Astor statue committee and was on the judging panel to choose the designer. She said: "There are few statues to public women and fewer still to women involved in politics, all too often their voices are not heard and little remembered.
"Nancy Astor's voice was loud and unafraid – we remember her because hers was the first female voice to echo around the chamber of the House of Commons. We hope that her statue, another first and fittingly for the first to a woman MP, will again be a loudspeaker, this time for young women and girls, encouraging them to engage and be heard."
Familiar pose
The fundraising campaign for the statue was led by Plymouth Women in Business CIC, headed up by communications expert Alexis Bowater and including Dr Turner as historical advisor. It was backed by Prime Minister Theresa May, the Astor family, and prominent female politicians, past and present, including Betty Boothroyd and Harriet Harman.
More than 700 people have donated to the Nancy Astor Statue appeal and the number of supporters is still growing.
A total of 12 bids to design the statue were received, with the judges whittling them down to one. Gibbs' sketched design is for a bronze statue on a limestone plinth that illustrates the courage and tenacity of Lady Astor. The pose is inspired by early campaign photographs of Lady Astor canvassing in Plymouth.
Gibbs' previous work includes sculpting a life-size bronze statue of William Shakespeare, soon to be unveiled at the site of the original Globe Theatre in Shoreditch.
Gibbs said: "I am so honoured and excited to have my design selected for this ground-breaking piece of public art."
Project lead Alexis Bowater said: "100 years ago Plymouth made history when it voted in the first woman to take her seat in Parliament and now it's doing it again by raising the first statue of the first female MP in the House of Commons. Hundreds and hundreds of people are part of this project to see Nancy Astor stand again in Plymouth and now we are absolutely delighted to know what that will look like."
Centenary programme
The statue campaign is part of a centenary Astor 100 programme of events leading up to the anniversary of Lady Astor's election, led by Dr Turner. The programme is underpinned by a social media exhibition 'An Unconventional MP' showcasing fascinating items from Nancy Astor's Papers held at the University of Reading Special Collections and a curated blog series.
An Astor Voices project will comprise interviews with Nancy Astor's surviving grandchildren. This is part of a 'Vigour Vitality and Cheek' event scheduled for April at the National Trust Cliveden, Lady Astor's former country home. It will also be an opportunity for the public to see her letters and political correspondence held in the University's archives.
Dr Turner also worked with Parliament last year to mark the centenary of women winning the right to vote in 2018. The Vote 100 project included a Voice and Vote public exhibition in Westminster Hall.
Keep up to date with the Astor statue campaign by following @LadyAstorStatue or @LadyAstor100 on Twitter.