State of the art lecture theatre named after world-leading Reading meteorologists
19 February 2019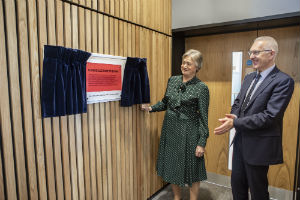 An enhanced lecture theatre with modernised facilities has been officially reopened by the first female professor of Meteorology in the UK, whose name it bears.
The Slingo Lecture Theatre, formerly the Right Hand Lecture Theatre, in the JJ Thomson building, has been renamed after Dame Professor Julia Slingo DBE and her husband Professor Anthony Slingo following a £2.3m refurbishment.
Dame Julia attended a ceremony on Wednesday 13 February, where a plaque was unveiled next to the entrance to the lecture theatre. She then presented a lecture about how climate science has evolved over the past 45 years.
Professor Gavin Brooks, Deputy Vice-Chancellor at the University of Reading, said: "Both Dame Julia and her husband Professor Anthony Slingo were esteemed members of the University of Reading community. Their innovative approaches have helped our understanding and modelling of weather and climate.
"It seems fitting that this lecture theatre, featuring new technology to enhance our students' learning, should bear the name of these pioneering scientists."
The renaming follows a refurbishment of the interior of the Ditchburn and Right Hand Lecture Theatres. This provided increased seating capacity and automatic doors for improved access, as well as new lighting and audio-visual systems. The capacity of the Slingo Lecture Theatre was increased from less than 100 to 170 seats.
These refurbishments were completed on schedule and under budget, and form part of the University's ambitious 2026: TRANSFORM capital investment programme, which focuses on improving campus facilities and supporting the student experience.
Dame Julia carried out climate modelling research and founded the Walker Institute for Climate System Research while at the University of Reading, and was appointed the UK's first female professor of Meteorology there. She became the first female president of the Royal Meteorological Society in 2008 and was Met Office Chief Scientist from 2009-2016. She remains a Visiting Professor at Reading.
She was also appointed an OBE for services to environmental and climate science in 2008 and promoted to Dame Commander in 2014. She was elected a Fellow of the Royal Society in 2015.
Anthony Slingo was a Professor of Environmental Science at Reading until his untimely death in 2008. He worked on observing and modelling the Earth's radiation budget and advancing knowledge of how the greenhouse effect affects the climate.