Reading in the news - Mon 25 Feb
25 February 2019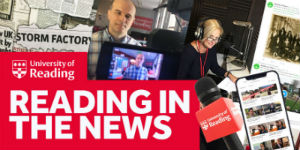 Food and biodiversity: Sky News interviewed Professor Tom Oliver (Biological Sciences) about a UN report showing how biodiversity is crucial for producing the food we eat.
Historic weather data: The return of Operation Weather Rescue, a citizen science project led by Professor Ed Hawkins (Meteorology), for British Science Week was discussed by Stephen Burt (Met) on BBC Radio Berkshire who is also part of the project. Coverage of the project appear on Yahoo News and many regional news websites, including Wales Online. Read our news story here.
University drama: Corporate Communications' very own Pete Castle appeared alongside Music at Reading artistic director on BBC Radio Berkshire about the forthcoming University production of Jesus Christ Superstar.
Other coverage
Neatorama reports on a Twitter thread by The MERL about a bat that had got stuck in one of its rare books libraries.
Folk singer Jackie Oates spoke to BBC Radio 3 about being Musician in Residence at The MERL and how its collections have inspired new work.
Get Reading reports on plans for new homes in Shinfield being withdrawn by the University and Bellway Homes last week. Two letters to the Wokingham Paper mention the Wokingham Borough Council meeting.
Reading research (Psychology) suggesting that electric bikes could boost wellbeing for older people gets further coverage on Yahoo Lifestyle News, the road.cc round up of top stories for the week and international titles Free Malaysia Today and Malay Mail. Read our news story here.
Reading Chronicle reports on the appeal date for the University's St Patricks' Hall application being set by Reading Borough Council. Read our news story here on the artist's impressions of how the new accommodation would look if built.
Get Reading reports on the top landowners in Reading, Wokingham and Bracknell, and mentions the University.
Medical News Today quotes Professor Mark Pagel (Biological Sciences) in an article on the emergence of the first human language.