Professor Robert Van de Noort appointed as Vice-Chancellor of the University of Reading
26 February 2019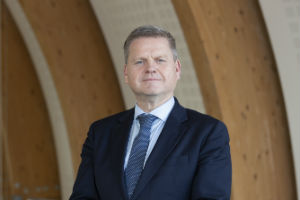 Professor Robert Van de Noort will be the next Vice-Chancellor of the University of Reading. The appointment has been approved by the University's governing Council and will take place with immediate effect.
Professor Van de Noort joined the University in 2014 as Pro-Vice-Chancellor for Academic Planning and Resources, and was appointed Acting Vice-Chancellor in September 2018 following the departure of Sir David Bell.
President of Council Paul Preston said: "Following a rigorous selection process, involving input from colleagues from across the University, we are delighted to confirm Professor Van de Noort as our new Vice-Chancellor. Robert knows Reading well, and will bring a balance of both continuity and refreshed vision to the University. In his time as Acting Vice-Chancellor, he has demonstrated that he can balance the need to make sometimes difficult decisions while being completely inclusive in his approach. I am extremely pleased that we have Robert at the helm, and look forward to working with him in the years to come."
The appointment process involved representatives from the whole University community, including the University Council, academics, professional services staff and the Reading University Students' Union.
Professor Van de Noort said: "I feel hugely privileged to take on the role of Vice-Chancellor of the University of Reading. We have a proud history and we will continue to play a critical role as a respected national and global research and teaching institution. I also want us to be more embedded in our local community – a valued partner and source of pride for Reading.
"My top priority is to revise our strategy through further consultation and engagement both with our University community and with our partners in the region. Our existing strategy has served us well in helping us to grow and meet the demands of an increasingly competitive sector. We now need a new shared vision for the future that meets the demands of a sector that continues to change rapidly. Our focus must be on quality in both research and teaching, while providing our students with an inclusive, welcoming environment that sets them up for long-term career success.
"Governance in higher education is increasingly in the spotlight and I firmly believe that openness, dialogue and willingness to accept, and indeed encourage, challenge and criticism are the key to our future. So this is a joint project – for our University community and our region – and one that I look forward to being part of."
Best known for his research into the archaeology of marine, intertidal and terrestrial wetlands, Professor Van de Noort has previously worked at the British School in Rome (1988-89), the Rotterdam Archaeology Unit (1989-1991), the University of Hull (1992-2000) and the University of Exeter (2000-14), where latterly he was Dean of the College of Social Sciences and International Studies.
Outside the University of Reading, he chairs the Thames Regional Flood and Coastal Committee (RFCC), which helps to provide governance for the Environment Agency Flood and Coastal Erosion risk management functions and cover all flood risks that are not the responsibility of the water companies.