Reading in the news - Tues 26 Feb
26 February 2019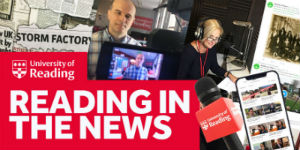 Merlin the Bat: BBC Berkshire spoke to Adam Kozary from the Museum of English Rural Life about Merlin the bat, whose discovery in a rare bookstore at the museum has gone viral on social media. National Public Radio stations in the USA also picked up the story, including WNYC FM New York.
Back to school: Professor Chris Scott (Meteorology) and Dr Jonathan Mitchley (Ecology and Evolutionary Biology) both appeared on BBC Berkshire answering typical GCSE sciences questions, with varying results.
Other Coverage
Pro-Vice Chancellor Global Engagement, Vincenzo Raimo is quoted in Education Design & Build about the potential risk to EU student numbers post-Brexit.
Stephen Burt (Meteorology) spoke to

BBC Lincolnshire

about digitising historical weather records.
GetReading have a picture story on the proposed St Patrick's Hall redevelopment, and a longer article going into more details about the plans.