Reading in the news - Weds 27 Feb
27 February 2019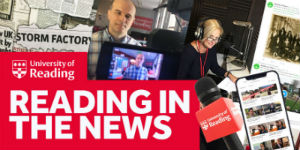 New Vice-Chancellor appointment: BBC Berkshire, The Breeze, and The Reading Chronicle have all reported on the appointment of Professor Robert Van de Noort as Vice-Chancellor.
Hottest February day: Stephen Burt (Meteorology) spoke to BBC Berkshire about the record temperatures being recorded this week. 19.6 °C was recorded on Tuesday, making it the highest February day in 110 years. Dr John Shonk also spoke to The Independent about the impact of a hot winter.
Pink Skies: Professor Ellie Highwood spoke to the Derby Telegraph about pink skies at dusk after a local reader wrote in claiming they were being caused by chemtrails, which Professor Highwood dismissed.
The Future of Oak Trees: Professor Rob Jackson (Biological Science) is quoted by the Mail Online and in print about the possibility that native oak trees may have to be replaced with foreign species in future.
Women's and Trans rights: Professor Rosa Freedman (Law) spoke via video-link at a Speak Up For Women event in Auckland, New Zealand about sex self-identification. http://www.voxy.co.nz has picked up the story.
Other Coverage
BBC Berkshire and The Reading Chronicle have reported on the opening of the inquest for Daniel Williams, the student who died on campus earlier this month.
Charmi Patel, associate professor of international HRM at Henley Business School, spoke to http://www.hrmagazine.co.uk about engagement survey participation.
A study by the University and Rothamsted Research about wheat arabinogalactan-peptide (AGP) has been picked up by www.nutraingredients.com.
The Express has included a Cold War bunker on the Whiteknights campus in a list of nuclear bunkers in the UK.
The Borneo Post has reported on the International Foundation Programme (IFP) being offered by the University of Reading Malaysia.
Dawn.com has a report on the International Food and Nutrition Conference at the University of Sargodha, Pakistan, where Dr Keshavan Niranjan (Food & Bioprocessing Sciences), gave a talk on food engineering research.