World's first global wildfire research centre launches with £10m funding
11 January 2019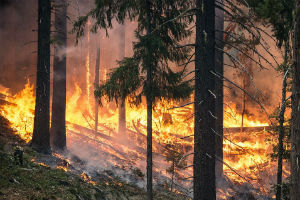 A new £10m research centre, involving a leading scientist from the University of Reading, will help improve prediction and management of wildfires globally.
The Leverhulme Centre for Wildfires, Environment and Society is the world's first research centre to address wildfire challenges from a global perspective. It has launched with £10m funding from the Levehulme Trust, which will support it for 10 years.
The new Centre, led by Imperial College London, brings together physical and social scientists including Professor Sandy Harrison, from Reading's School of Archaeology, Geography and Environmental Science. It will seek to increase understanding of the factors that influence wildfires, and provide guidelines on successful fire management for future generations.
"The new Leverhulme Centre is a very exciting opportunity to make a step-change in the way we understand fire in space and time" - Professor Sandy Harrison, University of Reading
Professor Harrison is considered by her peers to be one of the most highly-regarded female scientists working on fire in the world. A recent editorial in the journal 'Fire' listed her second in a list of the 145 most influential female fire scientists globally.
Professor Harrison said: "The new Leverhulme Centre is a very exciting opportunity to make a step-change in the way we understand fire in space and time. This new centre unlocks research that will allow us to protect some of the world's most vulnerable regions, where wildfires can ruin livelihoods and ecosystems.
"We will look back in time to study wildlife fire patterns in different climates and before humans were a factor to better understand how natural and human influences affect them. This is crucial if we are to control and use fire more effectively in the future."The new Leverhulme Centre is a very exciting opportunity to make a step-change in the way we understand fire in space and time, in Reading's new field of pyrogeography. I am also excited that it will give us an opportunity to link up fire-related research at the University of Reading."
Challenging
Huge wildfires have recently caused devastation in Canada, California and Greece, but natural fire can also have positive effects where species and ecosystems rely on them to recycle nutrients or provide new fertile ground.
Changing human practices have made predicting and managing wildfires more challenging. Large fires used to clear land for crop or farmland can displace local populations, but 'zero fire' policies have led to the accumulation of burnable material that result in larger-than-normal fires, which destroy lives and property, threaten biodiversity and cultures, reduce air quality, and emit huge amounts of carbon.
Wildfires are also driven by, and can contribute to, climate change: a warming world makes large fires more likely, which in turn releases large amounts of the greenhouse gas carbon dioxide from burnt plant life. However, these relationships are at present not well understood.
Professor Harrison is one of six associate directors of the Centre, and take up the role of Capabilities Coordinator for Earth System Processes. She will coordinate the University of Reading's participation in the Centre's research and outreach activities.
Looking back in time
A major focus of Reading's activities will be documenting how wildfires were influenced by radically different climates hundreds of thousands of years ago – including times when human influence was negligible. This will shed light on the interaction between natural and human influences on fire.
Understanding how people, particularly in tropical regions, use fire for agricultural and environmental management will also be a major focus. Reading will help develop and apply better models to predict the risk and consequences of wildfires, in highly vulnerable environments like the boreal forest and tropical peatland areas, as well as borders between natural land and towns and cities and within cities themselves. The new Centre will be the catalyst for developing a cross-disciplinary approach to pyrogeography in Reading.
As well as Imperial College London, Professor Harrison will collaborate with experts from Kings College London and Royal Holloway University of London in the new Centre.
The Leverhulme Trust has funded three such Centres in its latest round of Research Centre awards. Professor Gordon Marshall, Director of the Trust, said: "Leverhulme Trust Research Centres are a major investment in discovery-led inquiry at a time when funding for fundamental scholarship is under great pressure. They are our vote-of-confidence in the quality of the UK's outstanding researchers.
"Each Centre will embrace multi-disciplinary and international collaborations designed to bring the highest calibre of expertise to bear on these exciting areas of inquiry. The Trust Board is delighted to add these new awards to its portfolio of long-term research investments."